Glenburn: Where To Go / Sightseeing
Sedona Estate
From Sedona Estate's humble beginnings, Paul Evans and Sonja Herges are proud to create regionally distinctive wines of impeccable quality from their high altitude vineyard in the Yea Valley. Visit their beautifully crafted cellar door and enjoy a personal wine tasting with the winemaker.
Surrounded by mesmerising views, the hillside cellar door is the ideal setting to enjoy a relaxing afternoon with fine wines and delicious gourmet platters. In winter, visitors are welcomed by the cosy fireplace.
Winemaker Paul Evans employs a very hands-on approach to capture the essence of this emerging wine region. It's cool climate viticulture, but plenty of sunshine at the right times provides the conditions for complex Shiraz and Cabernet.
Sedona Estate is a top five star winery voted by James Halliday Wine Companion 2016.
182 Shannons Road
Murrindindi, VIC, 3717
Located 13.6K from Glenburn
Bollygum Park
Bollygum Park is a magical playground based around the award winning children's book Bollygum by Garry Fleming.
You will be enchanted as you wander along the shady paths of this two and a half acre wonderland, from Bower Birds Nest with its sparkling blue treasures, across the bridge over the creek and pay a visit to platypus, whose house sits on the bank of the dry creek bed.
Continue down the path, bordered by native plantings, Indigenous message sticks, colourful storyboards and flora information panels to Wombats house with its artistically carved story wall, slides, mirrors and wombats hiding spot. You can enjoy Wombats favourite fishing spot by the large sandpit and he has even left a few fishing poles out for you.
Frogmouths House is the main play structure of the park and has senior and junior sections so no one is left out. Among its many features are a climbing wall, monkey bars, rope bridges, flying fox, wave slide, bird nest swings, dual metal slide for racing (under cover) and many noisy musical elements and a talk and listen tube.
For those older members of the family there is a architecturally designed skate park adjoining the playground with a bowl that opens into a street area with small euro, ledges, stairs, banks and quarter.
40 Whittlesea Road
Kinglake, VIC, 3763
Located 17.0K from Glenburn
Kinglake National Park
Only 65 km north of Melbourne, Kinglake National Park lies on the slopes of the Great Dividing Range, offering dramatic views of the Melbourne skyline, Port Phillip Bay, the Yarra Valley and across to the You Yangs.
This is a good spot, not far from Melbourne, to go camping, enjoy a bushwalk or have a picnic.
Nature revival
Since the intense 2009 fires in Kinglake National Park, many plants adapted to fire are flourishing. In spring, keep an eye out for wildflowers in bloom, while winter is a good time to discover fungi, mosses and lichens.
Before you go
Conditions can change in parks for many reasons. For the latest information on changes to local conditions, please visit the relevant park page on the Parks Victoria website.
Be bushfire ready in the great outdoors. Refer to the Bushfire Safety section on the Parks Victoria website for tips on how to stay safe.
Heidelberg-Kinglake Rd
Kinglake, VIC, 3763
Located 17.7K from Glenburn
Masons Falls
Masons Falls is located within the stunning Kinglake National Park.
Located close to Masons Falls is the Masons Falls Picnic Area. Enjoy a picnic under the towering gums and beautiful natural surroundings. A large sheltered area, free gas barbeques, plenty of tables and toilet facilities make it the perfect spot for social gatherings.
Discover how the forest has regrown since the devastating Black Saturday bushfires. From the Picnic Area there are several short walks, including one that leads to the spectacular Masons Falls lookout.
Masons Falls Road
Kinglake West, VIC, 3757
Located 20.8K from Glenburn
Buxton Mountain Bike Path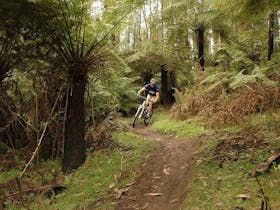 Buxton Mountain Bike Path is situated within the Black Range State Forest with around 20 kilometres of purpose built mountain bike single track fills the park. Trails can be ridden in a number of different length loops, but are only ridden in one direction.
Gentle climbs and fast flowing descents characterise the trails of the Buxton Mountain Bike Path. When ridden carefully, many of the trails are suitable for all riders, but when ridden faster the trails can provide a challenge.
Dyes Lane
Buxton, VIC, 3711
Located 21.4K from Glenburn
Gallery 34 Yea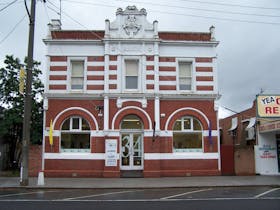 Gallery 34 is located in the old Commercial Bank Building in Yea, just over 90 minutes drive from Melbourne.
It is dedicated to showcasing Australian art and artists, via a rotating monthly exhibition in the main gallery, miscellaneous framed work in our stock room and an ever growing selection of contemporary jewellery, furniture, ceramics, sculpture, woodwork, stationery and other gifts all proudly handmade in Australia.
34 High Street
Yea, VIC, 3717
Located 21.9K from Glenburn
Yea Wetlands
You will not be disappointed if you take time and enjoy a leisurely stroll along the well defined paths and raised walkways to observe nature doing its thing on the Yea River flood plain, at Yea Wetlands.
In doing so you will have the opportunity to see Platypus, Rakali (native water rats), Sacred King Fisher, Koala, Sugar Glider or, if you are visiting at the right time, maybe an opportunity to see the rare and ancient damselfy, Hemiphlebia mirabilis, described in scientific journals as a 'living fossil'.
You can also walk the Time Path and discover the world's oldest land based vascular plant fossil the Heritage listed, Baragwanthia Flora Fossil discovered within five kilometres of the wetlands.
Walk the Franklin Track and discover little known information about the Taungurung Clan, the Aboriginal community that lived in this area prior to European settlement. Learn about their people, their history, food culture and relationship with the environment.
The new Y Water Discovery Centre on the corner of Hood and High Street is now one year old ...and is a must see attraction. You can even sit on the deck over looking the wetlands, relax and listen to mother nature's chorus. The striking architecture, accredited Visitor Information services and hands-on Interpretive Centre are located at the entry to the wetlands.
The interpretive displays draw attention to this region's most valued, yet misunderstood export - water - and all the life dependent on it. Water is Murrindindi Shire's most valuable export.
The Centre aims to inform more people about that precious, yet controversial water resource as well as the birds, and animals that form part of the important ecology of the disappearing wetlands.
A leisurely 45 to 60 minute stroll through the Yea Wetlands simply is a must.
2 Hood Street
Yea, VIC, 3717
Located 21.9K from Glenburn
Buxton Trout and Salmon Farm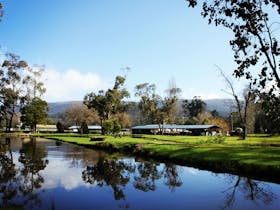 A visit to Buxton Trout and Salmon Farm is a great fun day out for the whole family. Young kids through to grandparents can all be thrilled by hooking onto a rainbow trout or atlantic salmon in their picturesque natural bush setting. While you are there why not sample their famous Mountain Ash Smoked Trout, their premium hand-milked salmon caviar, have a barbecue with the kids, or just feed the fish and relax.
The farm is Australia's first commercial Trout farm where trout have been reared for over 50 years. The gravity fed water supply originates from the snowfields of Lake Mountain before cascading down Steavensons Falls and through its streams providing the perfect place to grow a clean, natural food.
The farm is open every day for visitors and fishermen on the Maroondah Highway in Buxton.
2118 Maroondah Highway
Buxton, VIC, 3711
Located 22.3K from Glenburn
Glenburn: Events
Kinglake Produce and Artisan Market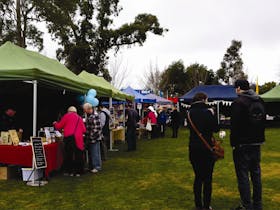 At Kinglake Produce and Artisan market you will only find high quality and homemade items and products.
The Market offers a range of fresh produce, chutneys, wines, hot and cold food (sweet and savoury), coffee, children's entertainment, crafts, plants, gift-ware, wool, soaps, candles, pet accessories, peanut butter, boiled lollies, painting, local artists and the list goes on.
The Market boasts only to have one of anything, with a gorgeous scenic drive from any direction, great customer service, welcoming atmosphere and an abundance of local attractions (shops, dining and waterfalls).
You will sure to be visiting the Market again soon. Family and dog friendly (dogs must be on leads). So why not plan the day, meet your family or friends in the centre of Kinglake and the heart of town.
Event Dates
2016
      26th Jun
19 Whittlesea-Kinglake Road
Kinglake, VIC, 3763
Located 17.2K from Glenburn