Driffield: Where To Go / Sightseeing
Morwell Centenary Rose Garden
Take the time to stop and smell the roses at one of the world's premier rose gardens. The Morwell Centenary Rose Garden proudly showcases about 3000 roses across three acres of internationally recognised rose garden, in a scenic park-like setting at the edge of the CBD.
Climbing roses create walls of colour and perfume, while garden paths wind their way through perfumed beds of Hybrid Tea, Floribunda and Austin roses. A collection of Australian and New Zealand bred roses is at the southern end; and to the north set in a cottage garden are many old fashioned and species roses. Manicured beds edged with paving stones complement the magnificence of the entire garden.
The garden forms the western entrance to the Morwell Business District, Civic Centre, Art Gallery and the Justice Precinct. This community project is a continuing work undertaken by the "Friends of the Rose Garden", volunteers and sponsors with the generous support of Latrobe City Council.
Cnr Commercial Road and Maryvale Crescent
Morwell, VIC, 3840
Located 7.6K from Driffield
Latrobe Regional Gallery
Latrobe Regional Gallery houses eight gallery spaces and a sculpture courtyard that showcase travelling exhibitions, curated exhibitions and the permanent collection. An ever-changing program of quality exhibitions ensures a different experience every time you visit the gallery.
The impressive collection is comprised of over 1500 contemporary Australian pieces of art in all mediums and a diverse range of historical and contemporary images of the Gippsland region. Glass is a specialty area of the collection, acknowledging the importance of Gippsland in the Australian studio glass movement.
The gallery shop stocks quality arts and craft and the caf?, So Swish, provides an enhanced experience for visitors. Guided gallery tours can be arranged by appointment.
The gallery is one and a half hours' drive from Melbourne along the Princes Freeway (Exit B460) and a two minute walk from the Morwell Railway Station.

138 Commercial Road
Morwell, VIC, 3840
Located 7.9K from Driffield
Morwell National Park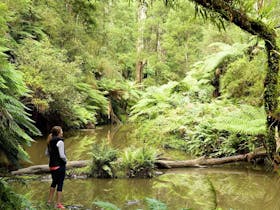 Situated in the northern foothills of the Strzelecki Ranges, this park is small in size but of great value in preserving a remnant of the area's original plant and animal life.
The best was to enjoy Morwell National Park is to walk through it. Fosters Gully Nature Walk provides an excellent introduction to the park.
Things to do
A self-guided nature walk through Fosters Gully provides the visitor with detailed information on the variety of plants and animals found in the park. The walk begins at the Kerry Road picnic area and takes about an hour to complete. Camping is not permitted.
Heritage
Morwell National Park and surrounding area was occupied by the Woollum Woollum Clan who used the area to hunt possums for food and skins. Artefacts from these times have been found in the surrounding areas. Europeans settled here in the 1840s and cleared land for grazing. Remnants of saw mills and mining can be seen today.
Before you go
Conditions can change in parks for many reasons. For the latest information on changes to local conditions, please visit the relevant park page on the Parks Victoria website.
Be bushfire ready in the great outdoors. Refer to the Bushfire Safety section on the Parks Victoria website for tips on how to stay safe.
Kerry Road
Morwell, VIC, 3840
Located 10.4K from Driffield
Tyers Park
Set in the foothills to the north of the Latrobe Valley, Tyers Park encompasses the fine scenery of the Tyers Gorge where the Tyers River winds between steep forested slopes. The park has an abundance of diverse wildflowers and the birdlife, making it a favourite destination for naturalists. Outcrops of limestone and conglomerate are of geological interest. The limestone contains both plant and animal fossils.
Popular activities at Tyers Park include scenic drives, bushwalks, picnicking, swimming, fishing and nature study.
Spring is the main wildflower season and a good time to visit, although the park has plenty to offer throughout the year.
Before you go
Conditions can change in parks for many reasons. For the latest information on changes to local conditions, please visit the relevant park page on the Parks Victoria website.
Be bushfire ready in the great outdoors. Refer to the Bushfire Safety section on the Parks Victoria website for tips on how to stay safe.
Tyers-Walhalla Rd
Yallourn North, VIC, 3825
Located 11.5K from Driffield
Old Gippstown
Step back in time to the 18502 s and enjoy a visit to Old Gippstown, Gippsland's Heritage Park in Moe. This complete historical township filled with authentic buildings and d?cor makes an ideal venue for weddings and functions.
Old Gippstown is also renowned for its Coach house which contains one of Victoria's best collections of horse drawn vehicles.
The beautiful garden settings are perfect for picnics and barbecues. You can also see a large variety of agricultural and industrial machinery ranging from horse drawn, steam-driven or manually operated, and the blacksmiths forge, in which many were manufactured.
The General Store and The Water Wheel garden dressmaking shop contain displays of original implements used around the home in the 1850s. Tynong Theatre, at which a screening of old black and white movies, newsreel and shorts can be arranged for visitors. Prior arrangements must be made.
Visit the local police station and spend a short stretch in the local jail.
Drop past the local doctor's quarters - do not forget to look out for the ghost.
Old Gippstown also cater for school bookings. Please call them to find out more information.

211 Lloyd Street
Moe, VIC, 3825
Located 12.8K from Driffield
Driffield: Events
Experimenta Recharge: 6th International Biennial of Media Art
Experimenta Recharge: the 6th International Biennial of Media Art presents the work of artists who employ, critique and experiment with media and technology.
Recharge features artworks that draw from photography, biology, sculpture and installation, electromagnetic, sound art, robotics, gaming, dance, the world-wide-web, performance, 3D printing, animation, film, video and analogue television.
Event Dates
2016
      29th May
      30th May
      31st May
      1st Jun
      2nd Jun
      3rd Jun
138 Commercial Road
Morwell, VIC, 3840
Located 7.9K from Driffield
Summit Survivor
Summit Survivor is an awesome obstacle event for the thrill seekers out there.
If mud, water and electric shocks leave you in a cold sweat, stop reading now. The Summit Survivor is not for the faint-hearted and definitely not for delicate wallflowers who would blow away in a stiff breeze.
The epic five kiometre course is the most obstacle-dense course in Victoria. And it will have you ducking, weaving, leaping, staggering, clambering, wading and, at times, dragging your sodden body through substances and apparatuses that quite frankly would look more at home in a war zone.
Imagine Tough Mudder, the Summit Survivor is just that course, but more fun!
Summit Survivor is an awesome obstacle course over five kilometres long with 36 epic obstacles and is for all fitness levels and for ages. Summit Survivor is located on only, 90 minutes from Melbourne in Trafalgar East.
Now complete with a 1.3 kilometre obstacle course for the kids too, there is fun for the whole family.
Walk, run or sprint your way through the awesome mud, nets, beams, ice, zaps and so much more. Less run, more fun.
With 100 per cent of all profits from the event will be donated to Youth Leadership Programs in Victoria. Do not delay, register now.
Event Dates
2016
      12th Nov
21 Cemetery Road
Trafalgar East, VIC, 3824
Located 13.7K from Driffield
The WIN Network 49th Traralgon Marathon and Running Festival
The Traralgon Marathon is Australia's oldest marathon and was first held on 24 August 1968. Now in its 49th year, the event includes a full marathon, half marathon, 10 kilometre run, and a 'Kids Marathon' event over 2.2 kilometres.
With an fantastic new course - utilising the Gippsland Plains Rail Trail for the Marathon and Half Marathon courses - this is an exciting year to be taking part.
Proudly presented by The Traralgon Harriers Athletics Club, this 'Friendly Marathon' offers great value for runners and walkers of all ages. The friendly vibe and country atmosphere make it the ideal event for serious and novice runners alike.
Stay around after the race, as food is provided and it offers a great chance to socialise with your fellow runners that is not always available at many of the other major events.
Traralgon Harriers welcome your entries and look forward to seeing you at the event.
Event Dates
2016
      5th Jun
Whittakers Road,
Whittakers Road
Traralgon, VIC, 3844
Located 21.3K from Driffield
AGL Loy Yang ITF Junior Tennis Tournament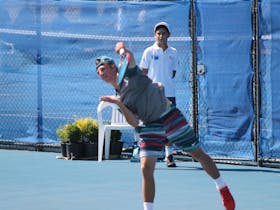 This tournament is a lead in event to the Australian Open Junior Championships held at Melbourne Park.
The world's finest 18 and under players begin their journey towards the Australian Open participating in the Grade-1 ITF AGL Loy Yang Traralgon Tennis International Championships at the Traralgon Tennis Centre early in the new year.
Most of the world's best prodigies come to improve their international ranking by gaining valuable points. About 150 tennis competitors and their entourage from at least 30 countries compete in this major Gippsland sporting event.
The AGL Loy Yang Traralgon Tennis International Championships is run by the International Tennis Federation, Tennis Australia and the Traralgon Tennis Association.
Come and witness some of the future stars of the game and enjoy an action packed tournament with free entry to all.
Event Dates
2016
      14th Nov
Corner Franklin and Davidson Street
Traralgon, VIC, 3844
Located 21.9K from Driffield
Driffield: Travel Tips
Latrobe Visitor Information Centre
The Latrobe Visitor Information Centre is located on the Princes Highway (next to the train station) in Traralgon. It is a dedicated tourism centre offering professional and local knowledge on Latrobe City and the wider Gippsland region. The team of passionate staff and friendly volunteers are at your service.
Latrobe City is ideally located, its position within the Central Gippsland region makes it central to an abundant array of natural wonders including the bush, snowfields, lakes and beaches. The region offers something for everyone.
Key highlights of the area include the cool temperate rainforests of Tarra Bulga National Park, Morwell National Park and waterways like Lake Narracan and the popular Hazelwood Pondage. Discover one of the most successful old gold mining towns in Victoria, Walhalla, and other quaint country towns including Yinnar, Glengarry and Toongabbie.
Latrobe City is also the major producer of Victoria's electricity. The area is fertile in brown coal deposits and visitors have the opportunity to learn about the production of electricity whilst in the area by following the Power Trail Route 98. Visit the centre for more information.
The team offers friendly local knowledge and assistance for attractions, local businesses and services, restaurants and cafes, museums, galleries, wineries and local produce, sporting facilities, events, rail trails and gardens.
The Latrobe Visitor Information Centre also provide a free accommodation booking service, public computer, bike rack, Chargebar (charges virtually all devices), free Wi-Fi and offer a range of local and Australian made souvenirs for purchase.
'The Old Church' Princes Hwy
Traralgon, VIC, 3844
Located 21.2K from Driffield