Coongulla: Where To Go / Sightseeing
Maffra Sugar Beet Museum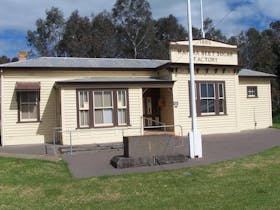 The Maffra Sugar Beet Museum is housed primarily in the relocated office and weighbridge of the former Maffra Sugar Beet Factory, with an associated shed containing agricultural machinery.
An audio-visual of Sugar Beet growing around Maffra is included, as are small exhibitions on European exploration, Aborigines and pre-history. Archives and photographs are held off-site at Maffra Library. An extensive collection of Architectural plans is held.
The Collection contains objects and documents relating to the cultivation of Sugar Beet around Maffra (1896-1848), and the Maffra Sugar beet factory, plus agriculture in general (especially dairy farming) and documents and photographs relating to the former Maffra Shire. Photographs include an extensive collection of the works of H.B. Hammond, photographer at Maffra from c.1907 to the 1940s.
McMahon Drive
Maffra, VIC, 3860
Located 18.4K from Coongulla
Gippsland Vehicle Collection
The Gippsland Vehicle Collection provides south east Australia with an outstanding rotating display of interesting vehicles including cars, motor-bikes, machinery, historic vehicles and auto memorabilia.
Located in the very attractive Central Gippsland rural town of Maffra, the Motor Museum is an easy three hour drive from central Melbourne along the excellent Princes Highway. Or alternate routes can be taken around the coast, through the hills, or even over the big hill, Mount Hotham and the Alpine Way.
Maffra has long been a strong motoring centre and boasts a local hill climb track run by the Maffra and District Car Club and a Motocross track run by the Maffra Sale Motorcycle Club.
There are so many interesting and unique vehicles to see that we have a rotating theme of display vehicles for four months at a time. Their current feature displays are listed on the website. The vehicles are on loan from private collectors, mostly in Gippsland.
The massive building of around 2200 square metres was built during World War Two as a vegetable dehydrating plant to provide vegetables to our troops overseas, and has been several other factories and warehouses since then, finally falling into disrepair around 15 years ago.
Bus tours and school group are welcomed and catered for.
1A Sale Road
Maffra, VIC, 3860
Located 19.5K from Coongulla
Coongulla: Events
Heyfield Market
The Heyfield Market takes place on the first Saturday of every month - 8:00am to 1:00pm.
Heyfield Saturday Market has a relaxed and friendly atmosphere with over 28 stalls of home made, home grown and quality second hand goods (trash and treasure), as well as honey and potatoes. Enjoy a barbecue or Devonshire tea, sandwiches and cakes. The market raises money for the St James Anglican Church.
In addition to the market the Heyfield Historical Museum is also open every market day from 10:00am to 2:00pm or at other times by appointment and is located just through the crossroads from the market on Harbeck Street. It houses an array of local information and memorabilia from the late 1800's to more recent times.
Event Dates
2016
      4th Jun
      2nd Jul
      6th Aug
      3rd Sep
      1st Oct
      5th Nov
      3rd Dec
2017
      7th Jan
      4th Feb
      4th Mar
      1st Apr
      6th May
Temple Street,
8,
Foster
Heyfield, VIC, 3858
Located 9.9K from Coongulla
Walhalla Vinter Ljusfest
During the month of August, Walhalla Historic Township is transformed by the Walhalla Vinter Ljusfest. Creating in the Swedish tradition of celebrating the winter, the Vinter Ljusfest shows Walhalla in a totally new way through lights, sound and images. Daily light shows operate from 6.30pm until 9.00pm.
Don't miss the Walhalla Vinter Ljusfest light display or the special events that occur during the month. Visit the website for more information.
Event Dates
2016
      1st Aug
      2nd Aug
      3rd Aug
      4th Aug
      5th Aug
      6th Aug
      7th Aug
      8th Aug
      9th Aug
      10th Aug
      11th Aug
      12th Aug
      13th Aug
      14th Aug
      15th Aug
      16th Aug
      17th Aug
      18th Aug
      19th Aug
      20th Aug
      21st Aug
      22nd Aug
      23rd Aug
      24th Aug
      25th Aug
      26th Aug
      27th Aug
      28th Aug
Main Road
Walhalla, VIC, 3825
Located 11.6K from Coongulla
Maffra Variety and Farmers Market
Maffra comes alive the first Sunday of every month, with producers, farmers and many more coming together in Johnson Street.
Maffra Variety and Farmers Market specialises in fresh seafood, farm fresh vegetables, jams/preserves, pet food and accessories.
All your favourite producers and stallholders will be on hand.
Handmade soaps/candles, crafts, plants bric-a-brac and much more.
Event Dates
2016
      5th Jun
      3rd Jul
      7th Aug
      4th Sep
      2nd Oct
      6th Nov
      4th Dec
Johnson Street
Maffra, VIC, 3860
Located 18.7K from Coongulla
George Gray Centre - Kaleidoscope
The Kaleidoscope exhibition is a celebration of life expressed through the eyes of artists living with a disability - bursting with energy, colour and vitality.
Arts will be on display from participants of the George Gray Centre.
150 Johnson Street,
PO Box 304
Maffra, VIC, 3860
Located 18.7K from Coongulla
Gone Farmin'
Whether you grew up on the farm, have fond memories of visiting your cousin's farm, or you are a confirmed urbanite who couldn't stand to miss an episode of McLeod's Daughters or Farmer Wants A Wife, the Gippsland Vehicle Collection (GVC) has the exhibition for you.
The GVC will showcase farm vehicles from across the generations with its Gone Farmin' exhibition, which will launch on Sunday, March 13 and run until the end of June.
Rare and otherwise special farm vehicles will be on show both inside the GVC's Motor Museum and on the grounds. And, enthusiasts with any sort of vehicle, farm-related or not, are invited to bring them along and show in the grounds on the launch day, to add to the display. Prizes will be awarded for exhibit of the day and President's Pick. Food and drinks are available and display vehicles are welcome from 9am onwards.
So to join the celebration of vehicle life on the farm, get along to the Gippsland Vehicle Collection on Sunday, 13 March, 2016 for the Display Day launch, or come along and see the ongoing exhibit, on show until the end of June.
Admission to the grounds on the display day is by gold coin donation, with a discounted $8 entry fee to the Motor Museum on the launch day, and under 15s free.
Event Dates
2016
      1st Jun
      2nd Jun
      3rd Jun
      4th Jun
      5th Jun
      6th Jun
      7th Jun
      8th Jun
      9th Jun
      10th Jun
      11th Jun
      12th Jun
      13th Jun
      14th Jun
      15th Jun
      16th Jun
      17th Jun
      18th Jun
      19th Jun
      20th Jun
      21st Jun
      22nd Jun
      23rd Jun
      24th Jun
      25th Jun
      26th Jun
      27th Jun
      28th Jun
      29th Jun
      30th Jun
1A Sale Road
Maffra, VIC, 3860
Located 19.5K from Coongulla
Coongulla: Travel Tips
Maffra Visitor Information Centre
The Maffra Visitor Information Centre serves this beautiful country town of approximately 5,300 people, situated 220 kilometres east of Melbourne in the Wellington Shire. It is the centre of the rich Macalister agricultural, pastoral and dairying irrigation area.
Situated on the Macalister River, this friendly town with its delightful tree-lined main street has a great deal to offer those who visit this area.
The Maffra Visitor Information Centre is housed in the late-Victorian designed Maffra Courthouse which retains most of its original features including the Baltic pine-lined ceiling and floorboards, the Magistrate's bench and marble fireplaces and all doors, doorways and interior woodwork.
In the specially designed display cases, you will see an important collection of mineral specimens, gemstones and fossils, the result of a lifetime of collection by Italian immigrant, Pino Deriu. Leaving Italy in 1952, this fully qualified accountant came to Australia and soon joined his brother in prospecting for opal around Coober Pedy. This led to a lifelong love of fossicking and trading minerals and gemstones. Apart from a wide and fully representative range of Australian specimens, his collection also contains extremely rare items from Europe, Africa, North and South America, Asia and Asia Minor. Pino's preference was to leave most of the specimens he collected in their natural state rather than have them cut, polished or mounted, which adds to the scientific value of this amazing collection.
Call the Maffra Visitor Information Centre and they can provide you with information to assist you in your travel through Maffra, the nearby Victorian high country and the surrounding Macalister irrigation district and to make your stay more enjoyable. The volunteers look forward to making your visit a memorable one.
96 Johnson Street
Maffra, VIC, 3860
Located 18.5K from Coongulla