Blackwarry: Where To Go / Sightseeing
Tarra Bulga National Park
Tarra-Bulga National Park in South Gippsland is well known for its giant Mountain Ash trees, beautiful fern gullies and ancient myrtle beeches. The park covers some of the best examples of original cool temperate rainforests of the Strzelecki Ranges.
Walk to the impressive Corrigan's Suspension Bridge, which stretches through the rainforest canopy, affording spectacular views of the lush fern gully on the forest floor below.
Before you go
Conditions can change in parks for many reasons. For the latest information on changes to local conditions, please visit the relevant park page on the Parks Victoria website.
Be bushfire ready in the great outdoors. Refer to the Bushfire Safety section on the Parks Victoria website for tips on how to stay safe.
Grand Ridge Rd
Balook, VIC, 3971
Located 9.7K from Blackwarry
Yarram Golf Club
Yarram Golf Club is situated just one kilometre north of Yarram township on the South Gippsland Highway. It's a comfortable three hour trip south-east of Melbourne and about a 220 kilometre drive.
The beautiful resort and fishing village of Port Albert, and the convenient attraction of the ninety mile beach are both only short trips away
Yarram is a superb 18 hole layout, carved out of native bush and welcomes social club groups, anytime, including weekends. You will be well looked after by our friendly members and you will be accommodated at your choice of various accommodation and dining venues
42 Golf Links Road
Yarram, VIC, 3971
Located 16.7K from Blackwarry
Yarram Historical Society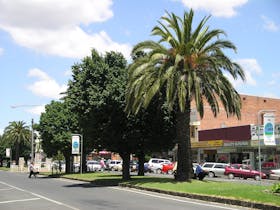 The Yarram and District Historical Society has a long and distinguished history. First formed in May 1911, it was the first sub-history centre of The Royal Historical Society of Victoria to be formed in Victoria.
Under the leadership of Rev. George Cox this group flourished until Rev. Cox in 1915 enlisted and went to serve in the war,the group then closed. The Society was reformed in 1964.
The Society has many items of historical interest, large archives of local history, books, photographs, ephemera and other memorabilia covering the Old Alberton Shire.
The records of the Yarram and District Historical Society include the areas and towns of Yarram, Alberton, Tarraville, Port Albert, Woodside, Tarra Valley, Won Wron, Macks Creek, Carrajung, Devon North, Jack River, Alberton West, Alberton East, Gelliondale, Hedley, Stacey's Bridge, Blackwarry, Balook, Baloong, Willung, Binginwarri, Willung South, Calrossie, Hiawatha, Woranga, Wonyip, Darriman and Giffard.
Carpenter Street
Yarram, VIC, 3971
Located 16.7K from Blackwarry
Yarram Courthouse Gallery
The Yarram Courthouse Gallery is a community art space run by members of the gallery with support from staff and volunteers from Mirridong Services Inc. It is located in the renovated Courthouse, a well-known historic building in the main street of Yarram, South Gippsland.
Local and regional artists can display their work, raising the profile of the artists in the community. They have regular exhibitions of visual and creative arts. The exhibition space includes professional track lighting, a security system, moveable walls and plinths, allowing for various display options. It also has toilet facilities and a kitchen area to facilitate exhibition openings.
The gallery, open every day except Wednesday, shares the building with the local Information and Tourist services as well as a gift shop, both of which bring in a flow of visitors. Gallery members work with exhibitors to provide assistance in arranging exhibitions and openings.
Commercial Road
Yarram, VIC, 3971
Located 17.6K from Blackwarry
Morwell National Park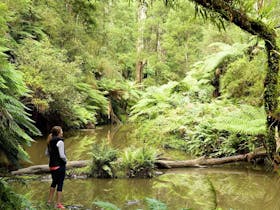 Situated in the northern foothills of the Strzelecki Ranges, this park is small in size but of great value in preserving a remnant of the area's original plant and animal life.
The best was to enjoy Morwell National Park is to walk through it. Fosters Gully Nature Walk provides an excellent introduction to the park.
Things to do
A self-guided nature walk through Fosters Gully provides the visitor with detailed information on the variety of plants and animals found in the park. The walk begins at the Kerry Road picnic area and takes about an hour to complete. Camping is not permitted.
Heritage
Morwell National Park and surrounding area was occupied by the Woollum Woollum Clan who used the area to hunt possums for food and skins. Artefacts from these times have been found in the surrounding areas. Europeans settled here in the 1840s and cleared land for grazing. Remnants of saw mills and mining can be seen today.
Before you go
Conditions can change in parks for many reasons. For the latest information on changes to local conditions, please visit the relevant park page on the Parks Victoria website.
Be bushfire ready in the great outdoors. Refer to the Bushfire Safety section on the Parks Victoria website for tips on how to stay safe.
Kerry Road
Morwell, VIC, 3840
Located 22.4K from Blackwarry
Tarraville Church
The tiny town of Tarraville, located near Port Albert is notable for its early wooden Church of England - Christ Church. The building is listed on National Estate records as Victoria's second oldest timber building.
The Christ Church is a rectangular timber Gothic Revival which was built in 1856 to a design by J. H. W. Pettit and George Hastings.
It was reputedly the first church in Gippsland and is 'a rare surviving example of drop slab construction' with the building being constructed without the use of nails. In recent times it has been painted blue and cream.
Old Sale Road
Tarraville, VIC, 3971
Located 24.8K from Blackwarry
Blackwarry: Events
Yarram Variety Market
Located in Gippsland's beautiful countryside, the Yarram Variety Market is a small country market with approximately 30 stalls.
There is an SES sausage sizzle, Red Cross canteen, Red Cross cake and bric-a-brac stall, clothing, crafts, plants, produce and tools stalls.
All stall fees go to help maintain the hall and grounds.
Yarram Variety Market occurs on the First Sunday of the month from 8:00am to 1:00pm.
Event Dates
2016
      3rd Apr
      1st May
      5th Jun
      3rd Jul
      7th Aug
      4th Sep
      2nd Oct
      6th Nov
      4th Dec
2017
      1st Jan
      5th Feb
      5th Mar
Commercial Rd & Church Street,
8,
Foster
Yarram, VIC, 3971
Located 17.0K from Blackwarry
Yarram Courthouse Garden Home Produce Market
The Yarram Courthouse Garden Market encourages everyone to bring their home grown produce to sell at their community market.
Bring your own chairs, table and umbrella (for shade).
Donations to Mirridong (Stall Holders only).
Please call or email for more information.
Event Dates
2016
      6th May
      13th May
      20th May
      27th May
      3rd Jun
      10th Jun
      17th Jun
      24th Jun
      1st Jul
      8th Jul
      15th Jul
      22nd Jul
      29th Jul
      5th Aug
      12th Aug
      19th Aug
      26th Aug
      2nd Sep
      9th Sep
      16th Sep
      23rd Sep
      30th Sep
      7th Oct
      14th Oct
      21st Oct
      28th Oct
      4th Nov
      11th Nov
      18th Nov
      25th Nov
      2nd Dec
      9th Dec
      16th Dec
      23rd Dec
      30th Dec
2017
      6th Jan
      13th Jan
      20th Jan
      27th Jan
      3rd Feb
      10th Feb
      17th Feb
      24th Feb
      3rd Mar
      10th Mar
      17th Mar
      24th Mar
      31st Mar
      7th Apr
      14th Apr
      21st Apr
      28th Apr
9 Rodgers Street,
8,
Foster
Yarram, VIC, 3971
Located 17.5K from Blackwarry
The WIN Network 49th Traralgon Marathon and Running Festival
The Traralgon Marathon is Australia's oldest marathon and was first held on 24 August 1968. Now in its 49th year, the event includes a full marathon, half marathon, 10 kilometre run, and a 'Kids Marathon' event over 2.2 kilometres.
With an fantastic new course - utilising the Gippsland Plains Rail Trail for the Marathon and Half Marathon courses - this is an exciting year to be taking part.
Proudly presented by The Traralgon Harriers Athletics Club, this 'Friendly Marathon' offers great value for runners and walkers of all ages. The friendly vibe and country atmosphere make it the ideal event for serious and novice runners alike.
Stay around after the race, as food is provided and it offers a great chance to socialise with your fellow runners that is not always available at many of the other major events.
Traralgon Harriers welcome your entries and look forward to seeing you at the event.
Event Dates
2016
      5th Jun
Whittakers Road,
Whittakers Road
Traralgon, VIC, 3844
Located 24.5K from Blackwarry
Blackwarry: Travel Tips
Latrobe Visitor Information Centre
The Latrobe Visitor Information Centre is located on the Princes Highway (next to the train station) in Traralgon. It is a dedicated tourism centre offering professional and local knowledge on Latrobe City and the wider Gippsland region. The team of passionate staff and friendly volunteers are at your service.
Latrobe City is ideally located, its position within the Central Gippsland region makes it central to an abundant array of natural wonders including the bush, snowfields, lakes and beaches. The region offers something for everyone.
Key highlights of the area include the cool temperate rainforests of Tarra Bulga National Park, Morwell National Park and waterways like Lake Narracan and the popular Hazelwood Pondage. Discover one of the most successful old gold mining towns in Victoria, Walhalla, and other quaint country towns including Yinnar, Glengarry and Toongabbie.
Latrobe City is also the major producer of Victoria's electricity. The area is fertile in brown coal deposits and visitors have the opportunity to learn about the production of electricity whilst in the area by following the Power Trail Route 98. Visit the centre for more information.
The team offers friendly local knowledge and assistance for attractions, local businesses and services, restaurants and cafes, museums, galleries, wineries and local produce, sporting facilities, events, rail trails and gardens.
The Latrobe Visitor Information Centre also provide a free accommodation booking service, public computer, bike rack, Chargebar (charges virtually all devices), free Wi-Fi and offer a range of local and Australian made souvenirs for purchase.
'The Old Church' Princes Hwy
Traralgon, VIC, 3844
Located 24.7K from Blackwarry