Challambra: Where To Go / Sightseeing
The Heights Heritage House and Garden
The Heights Heritage House and Garden dates back to the 1850s. The house was built in 1855 and is remarkable for being the largest (14 rooms) German, prefabricated house in Victoria.
During the 1930s, the building was extensively altered to reflect contemporary taste although the extensive gardens, stables, outbuildings and water tower survive intact from the 19th century.
The Heights retains a small collection of fine Georgian furniture collected by the last owners, Louis and Marnie Whyte.
Early 1860s plantings still dominate this beautiful Geelong garden today and the aged oaks and conifers provide great delight to visitors.
140 Aphrasia Street
Newtown, VIC, 3351
Located 1.5K from Challambra
The Old Paper Mills at Fyansford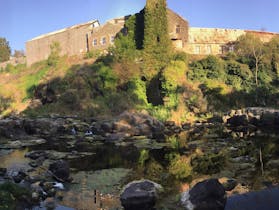 The Old Paper Mills at Fyansford are a hidden treasure. Here, you'll be able to enjoy a rich history that dates back to the early beginnings of Geelong's industrial era.
Now emerging as an arts and cultural precinct, these magnificent heritage buildings are becoming the setting for art and music enthusiasts, food and wine lovers and families looking for a unique destination to relax and unwind.
An art gallery and studios, mosaic workshop and cafe have kicked off the first wave of revival. Plans for an on-site winery and wedding and function centre will begin the shift into bigger things for the site.
The Old Paper Mills is situated on the Barwon River. A series of walking and cycling tracks allow visitors easy access to stunning views of Buckley Falls and the surrounding river areas.
This must-visit destination with its delightful village-like atmosphere is located on the outskirts of Geelong. The Old Paper Mills have plenty of parking and are just minutes from the city centre and the waterfront.
100 Upper Paper Mills Road
Fyansford, VIC, 3221
Located 2.0K from Challambra
Mabel and Me, On The Road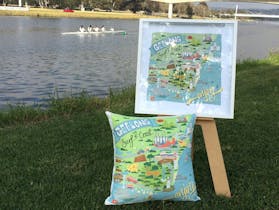 Mabel and Me, On The Road offers unique regionally designed graphic products.
Inspired by the owners lives, as well as abroad with a touch of vintage caravan charm - there are key chains, pillows and poster prints just to name a few.
Pop down to the Happy Shoe shop in Newtown to have a look at all the wonderful products.
19C Rutland Street
Newtown, VIC, 3220
Located 2.1K from Challambra
Boom Gallery
Boom is a vibrant and active contemporary art and design gallery. They present the work of emerging and established artists.
Launched by Ren Inei and Kate Jacoby in 2011, Boom has become a multi faceted centre for a range of creative activity and events. Situated in a historic woollen mill Boom houses art and design galleries, an extensive stockroom, education and workshop area, cafe and event space and a dynamic studio complex.
11 Rutland Street
Geelong, VIC, 3220
Located 2.2K from Challambra
The Rock Adventure Centre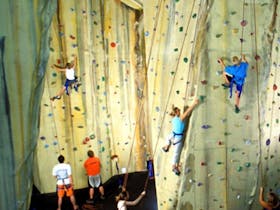 The Rock Adventure Centre is a state-of-the-art indoor rock climbing facility located in Geelong, Victoria.
The Rock features 1000 square metres of Climbing terrain, walls up to 12 metres high, huge variety of routes, for Beginners to Experts, two abseiling towers, massive Bouldering Area and Bouldering Cave, stretching area and training walls, cafe and specialist climbing equipment shop.
403 Pakington Street
Geelong, VIC, 3220
Located 2.3K from Challambra
Barwon Grange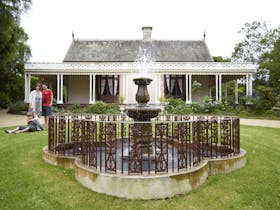 Barwon Grange is an elegant intact brick home dating from Geelong's earliest residential settlement.
It was built in 1855 and reflects the aspirations of middle class businessman Jonathan Porter O'Brien and his family who had emigrated from Liverpool.
The picturesque Gothic style architecture includes steep gables, unusual decorative timber bargeboards and veranda parapet.
The interior contains a fine collection of early Victorian furniture and fittings faithfully accumulated according to an inventory compiled when the house was auctioned in 1856.
The garden complements the house with a Victorian fountain. Lawns sloping down to the Barwon River are planted with species from a mid-19th century plant catalogue.
25 Fernleigh Street
Newtown, VIC, 3351
Located 2.6K from Challambra
Escape Room Geelong - The Mad Scientist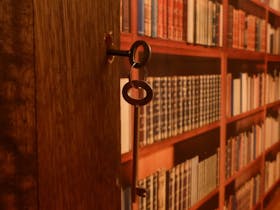 Escape Room Games Pty Ltd invites all escape artists to play their trade and test their mettle within an interactive themed environment known as an escape room.
Their first room 'Escape Room Geelong - The Mad Scientist' is located in Belmont and has had over 200 visitors from local, interstate and international destinations.
Tourists, families, couples, sports clubs and business groups have all had thrills, laughs, lots of mayhem and ultimately made their escape. Will your team be up to the challenge?
Your task is to find the clues, solve the puzzles and unlock each stage to progress. As your team clears each stage the story unfolds, just be sure to get out before your 45 minutes runs out.
Escape Room Games Pty Ltd gives reassurance that you are never truly locked in. The venue is air-conditioned, not claustrophobic and is a safe, fun recreational activity.
See their highly rated reviews on Facebook, TripAdvisor or Google.
Escape Room Games Pty Ltd advises that their escape room is for people aged 15 years and older and must be done in groups of two or more people.
Visit their website for bookings, vouchers or more information.
9 Queen Street
Belmont, VIC, 3216
Located 2.7K from Challambra
Endota day spa Geelong
Endota day spa Geelong offers remedial massage, spa treatments and beauty therapy. They are Geelong?s massage, waxing and beauty experts.
Endota day spa Geelong was Endota's Franchisee of the Year Runners Up for 2011 and a 2011 finalist for the Business Awards Geelong.
This brilliant Geelong day spa is a sight to sigh for. The best Geelong beauty therapy, spa treatments and exceptional Geelong massage are all on offer at Endota spa on Pakington Street, Geelong.
Spa facilities include five treatment rooms; with a large room perfect for double treatments or groups.
The endota spa Geelong massage menu offers a choice of relaxation and remedial massage. Geelong's endota spa is renowned for its friendly and super professional therapists - experts in delivering remedial massage, waxing, plus spa treatments and beauty therapy.
Experience more than just a facial: Geelong beauty salon therapies mixed with spa body treatments, footbaths and massage make for a memorable and magic Geelong spa day.
218 Pakington Street
Geelong West, VIC, 3218
Located 3.2K from Challambra
Judy Chirnside Flowers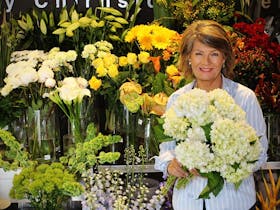 Renowned for style and innovation, Judy Chirnside Flowers delivers only the finest quality flowers, products, designs and customer service to clients.
Their team of highly talented florists create stunning, long-lasting fresh flower arrangements for all occasions including birthdays, Valentine's Day, Mother's Day, celebrations and funerals.
Judy Chirnside Flowers also specialises in corporate and event flowers including parties and weddings and have more than 25 years experience in delivering stylish and striking flowers to enhance your venue.
For a further information on different types of arrangements Judy Chirnside Flowers can do and pricing for arrangements, please view their website.
134 Pakington Street
Geelong West, VIC, 3218
Located 3.4K from Challambra