Emerald Hill: Where To Go / Sightseeing
Australian Tapestry Workshop
The Australian Tapestry Workshop (ATW) enjoys an international reputation as a leader in the creation of contemporary tapestry.
Established in 1976, the ATW is the only workshop of its kind in Australia and one of only a handful in the world for the production of hand-woven contemporary tapestries. Located in one of the finest commercial buildings of the 1880s, a distinctive example of Victorian Free Gothic architecture, the former Harcourt and Parry emporium is of great cultural significance to the South Melbourne locality and the wider metropolis of Melbourne.
The ATW has created more than 500 tapestries ranging from palm-size to monumental hand-woven using the finest Australian wool, which is dyed on-site forming a unique palette of 370 colours. The ATW's highly skilled weavers work with Australian and international artists to produce tapestries that are known for their vibrancy, technical accomplishment and inventive interpretation.
Many notable Australian and international artists have collaborated with the ATW over the years including Arthur Boyd, Jon Cattapan, John Olsen, Jorn Utzon, David Noonan, Sally Smart, Keith Tyson, Brent Harris, Imants Tillers, Brook Andrew and Sheena Wilfred.
ATW tapestries hang in significant public and private collections around the world and leading institutions in Australia, including the Great Hall of Parliament House in Canberra, Australian War Memorial, Sydney Opera House, National Portrait Gallery, National Library of Australia, The Arts Centre Melbourne, Melbourne Recital Centre, State Library of Victoria, National Gallery of Victoria, Royal Children's Hospital and the Royal Women's Hospital Melbourne, Parliament House Perth, and nine Australian embassies worldwide.
The ATW also has an exciting program of exhibitions, public lectures, workshops and programs including weaving classes, guided tours, artists-in-residence, children's weaving programs, community open days and special events.
262-266 Park Street
South Melbourne, VIC, 3205
Located 0.1K from Emerald Hill
A1skin and spa
A1skin and spa is situated in one of Melbourne's most vibrant shopping strips in South Melbourne and offers a warm and elegant environment.
Offering first class luxurious spa packages for those times when you are just in need of an escape from life. Recharge mind and body.
A1skin has beauty treatments and cosmeceutical facials that will relax, rejuvenate and replenish your skin such as our Detoxifying Body Wrap or Salt Glow Exfoliation.
Have one of our skilled massage therapists relax and unwind you with your choice of Relaxation, Deep Tissue or Remedial massage.
Perfect for a girls day retreat, couples, Hen's Day or just a relaxing massage on your weekend away.
Please contact us to talk to a spa host to arrange your treatment.
264 Coventry Street,
Lorimer
South Melbourne, VIC, 3205
Located 0.3K from Emerald Hill
Albert Park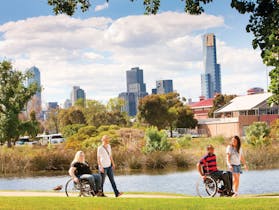 Only three kilometres from the heart of the city, Albert Park is popular for a range of activities like dog walking, jogging, cycling, sailing and rowing.
Apart from the lake itself, other attractions include sporting facilities, ovals, playgrounds, restaurants and a five kilometres of walking and running track.
Enjoy a barbecue or picnic with the family. Hire a boat and explore the lake. Walk, cycle or jog around the track, past green lawns and playing fields.
Enjoy watching the colourful sailboats on the lake and take in the magnificent views of the city skyline. Sporting facilities include a golf driving range, gymnasium and the Melbourne Sports and Aquatic Centre.
Parking
- Parking fees apply to all car parks and kerbside parking spaces within Albert Park
- Time restrictions and ticket requirements are shown on parking signs within the park
- Tickets must be displayed prominently on the dashboard to avoid parking fines
Aboriginal Traditional Owners
Parks Victoria acknowledges the Aboriginal Traditional Owners of Victoria - including its parks and reserves. Through their cultural traditions, Aboriginal people maintain their connection to their ancestral lands and waters. Further information is available from Aboriginal Affairs Victoria AAV and Native Title Services Victoria.
Albert Rd
Albert Park, VIC, 3206
Located 0.6K from Emerald Hill
19th Century Portable Iron Houses
19th Century Portable Iron Houses are the three houses which provide an insight into life in Emerald Hill, now known as South Melbourne, during the gold rush years.
These remarkable examples of early property development are among the few prefabricated iron buildings remaining in the world.
In 1855 South Melbourne had nearly 100 portable buildings, of which 399 Patterson House, still stands on its original site. Abercrombie House and Bellhouse House were moved to the current site from North Melbourne and Fitzroy respectively.
399 Coventry Street
South Melbourne, VIC, 3205
Located 0.7K from Emerald Hill
Rap Jumping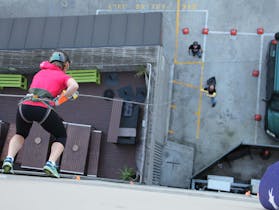 Rap Jumping is a highly advanced form of freestyle rope work.
The method used is a forward SRT rappel commonly known as the Aussie Rappel developed by the Australian SAS. Safety is first priority with a 100 per cent safety record since commercialisation in 1989.
Instructors are carefully selected for ability, thoroughly trained and will personally instruct you on every jump. You are in total control of your speed of descent, but there is also a brake person as a double safety measure.
Abseiling courses are available for everyone, from beginners through to experienced thrill seeker and also offer an Introduction to Abseil course for those with little to no experience, teaching the basic skills and procedures of traditional abseiling.
Those who want a more advanced experience will enjoy the Rap Jumping course. Conducted by extremely experienced and qualified instructors, safety is first priority. The instructors are dedicated to giving you the best experience.
334 City Road
Southbank, VIC, 3006
Located 0.8K from Emerald Hill
MSAC FlowRider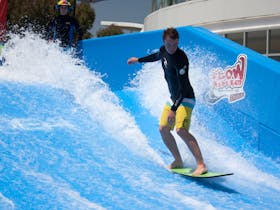 The MSAC FlowRider combines techniques of surfing and bodyboarding with the ride of snowboarding and wakeboarding and the tricks of skateboarding - all atop a static wave of water.
One of only three in Australia and the only one in Victoria, the MSAC FlowRider is something anyone can enjoy. Beginners will pick up bodyboarding almost instantly, or challenge themselves to master stand-up boarding with a little extra practice. However you choose to enjoy them, you will find the best waves year round right here at MSAC.
The MSAC FlowRider is available for a variety of users including casual riders - turn up and flow with ride, day and afternoon passes available, memberships for regular riders of all levels and exclusive bookings for all occasions - birthday parties, corporate events or a fun time with mates.
Please note there are minimum height restrictions for the FlowRider (body boarding 110 centimetres and flow boarding 140 centimetres).
All riders are required to complete a declaration form and watch a safety video before using the MSAC FlowRider for the first time. Children under the age of 18 are required to have a parent or guardian sign the declaration form.
1 Aughtie Drive
Albert Park, VIC, 3206
Located 0.9K from Emerald Hill
Emerald Hill: Events
Mind Body Harmony Expo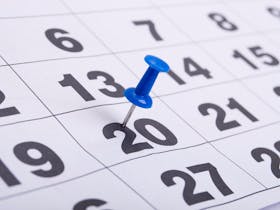 The Mind Body Harmony Expo will take place Sunday May 1 at the South Melbourne Community Centre (10:00am to 4:00pm). Also on July 3, September 4 and November 6, 2016.
The expo offers guests free seminars and classes, inspiring speakers, free yoga and Qi Gong, delicious food and coffee, and over 35 unique stalls. May's event is one week before Mother's Day, offering gorgeous gift packages and gift cards for Mum.
A place to be pampered, educated or have a bite to eat and browse the stalls. Free workshops to reconnect your passion. You will have the choice of psychics, mediums and healings to soothe the soul.
Browse the beautiful jewellery, health products, gourmet foods, crystals, essential oils, natural therapies, natural cosmetics, candles, reflexology, massage, yoga, meditation, reiki and feng shui. Healthy gourmet food available and delicious coffee.
There is plenty of street parking in Ferrars Place. The Centre is accessible with disabled parking out front of Ferrars Place entrance. Only a couple of blocks from the South Melbourne Market.
Event Dates
2016
      3rd Jul
      4th Sep
      6th Nov
South Melbourne Community Centre,
Corner Ferrars and Park Street
South Melbourne, VIC, 3205
Located 0.1K from Emerald Hill
Formula 1? Rolex Australian Grand Prix
All eyes will be on Melbourne when the first race of the FIA Formula 1 World Championship takes off at Albert Park Circuit.
With world class entertainment on and off the track, nothing will beat being there live at the 2016 Formula 1? Rolex Australian Grand Prix.
There will be something for everyone over four adrenalin-filled days - families can enjoy the Disney Precinct, fans will have access to drivers and teams each day at the Melbourne Walk and the Australian FMX Grand Prix will be wowing crowds with their impressive aerial jumps and stunts.
An exciting addition this year will be M-Lane, a brand new social precinct featuring a selection of Melbourne's finest chefs in pop-up restaurants, food trucks and music, all set against the back drop of Melbourne's street art scene.
So join in all the action and experience Formula 1 for real in 2017.
Event Dates
2017
      16th Mar
      17th Mar
      18th Mar
      19th Mar
Albert Road Drive
Albert Park, VIC, 3206
Located 0.7K from Emerald Hill
Golf Month
Golf Month is inviting those who have never hit a ball, or need a little help with their pro-aspirations to those who are on the course every week to play golf during October.
Activities will be on offer for people of all ages and abilities with golf facilities nation-wide encouraging golfers new, returning and existing to benefit from great offers throughout October.
For Golf Month there will be come and try clinics, women's programs, open and family days, new formats of the game, community events, MyGolf junior programs, lessons and coaching with a professional for all levels of golfers, and there's also the chance to win a money can't buy Emirates Australian Open experience for club members who introduce a new member during the month of October.
If you are a keen golfer or a novice just wanting to give it a try visit their website to see the Golf Month activities happening in your local area during October. The event is being held in many different places across Australia.
Come on Australia, rediscover your drive and get involved in Golf Month!
Event Dates
2016
      1st Oct
      2nd Oct
      3rd Oct
      4th Oct
      5th Oct
      6th Oct
      7th Oct
      8th Oct
      9th Oct
      10th Oct
      11th Oct
      12th Oct
      13th Oct
      14th Oct
      15th Oct
      16th Oct
      17th Oct
      18th Oct
      19th Oct
      20th Oct
      21st Oct
      22nd Oct
      23rd Oct
      24th Oct
      25th Oct
      26th Oct
      27th Oct
      28th Oct
      29th Oct
      30th Oct
      31st Oct
Level 3, 95 Coventry Street
South Melbourne, VIC, 3205
Located 0.7K from Emerald Hill
Below Five Zero Film Festival
Below Five Zero will showcase works created by local filmmakers for change they found in their pocket. All films shown will have been made for less than $50,000.
The festival organisers believe Australia has an immense amount of talent hiding behind low-budget shorts and features. They want to give these filmmakers the opportunity to have their work shown on the big screen and they also want to give the Australian public access to films they might not otherwise get to see.
Enjoy some quality cinema whilst supporting your local filmmakers.

Event Dates
2016
      7th Oct
      8th Oct
      9th Oct
65 Haig Street
Southbank, VIC, 3006
Located 0.8K from Emerald Hill