Warrayure: Events
Peaks and Trails Run
Peaks and Trails are set to host the first ultra trail event in the Grampians. Join in for a weekend full of run festivities.
Saturday sees the Salt Creek Kids Dash, Mt Abrupt Six Kilometre short course challenge (Summit ascent/ descent) and the Royal Mail Gourmet Trail. On Saturday night join for dinner at Cafe 109 for a pasta night.
On Sunday the 50 kilometre Trail Ultra, 26 kilometre Sturgeon Peak Challenge, 21.5 kilometre Trail Run, 11 kilometre Trail Run and 5 kilometre Trail Run will take place.
Be sure to mark this event on your 2016 must do list.
Event Dates
2016
      6th Aug
      7th Aug
Parker Street
Dunkeld, VIC, 3294
Located 12.9K from Warrayure
Three Peaks Festival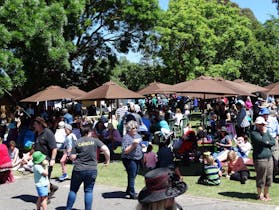 The Three Peaks Festival on the third weekend in October will offer a fresh take on the well known market in Memorial Park. Organisers are excited to announce live music from Phil Holmes, Since Tuesday, The McIntyre Brothers and Nancie Schipper.
The Markets are sure to impress, showcasing some of the best products and produce the Grampians region has to offer. Children will be entertained with a large range of activities for all ages, including jumping castles, author's story time, bubble play and pirate hidden treasure sandpit just to name a few.
Plus Baimbridge College will perform some classic children's songs from 10am. Boutique wine and craft beer, plus a large selection of quality food options will also be on offer. Look forward to meeting you in the park.
Event Dates
2016
      15th Oct
Stirling Street
Dunkeld, VIC, 3294
Located 13.0K from Warrayure
Great Victorian Bike Ride - Dunkeld
You are invited to visit the best of both worlds - Grampians to Great Ocean Road on Great Victorian Bike Ride.
The 2016 RACV Great Victorian Bike Ride will be discovering two iconic regions in Victoria and riders will get to experience the Best of Both Worlds. Go on a journey from the Grampians to the Great Ocean Road, through some of popular coastal and inland towns in Victoria. Heading into its 33rd year, the 2016 ride is sure to be a memorable event.
The RACV Great Victorian Bike Ride is a fun, friendly and challenging camping holiday. It is the opportunity to spend a week in another world, where you join the canvas community while exploring the beautiful Victorian countryside by bike.
General ride entires as well as schools entries will open in May 2016.
Event Dates
2016
      27th Nov
Racecourse Road
Dunkeld, VIC, 3294
Located 13.1K from Warrayure
Antique Valuation Day
If you enjoy watching Antique Roadshow, then you will love our Antique Valuation Day! Much sought after antique valuation expert, Mr Warren Joel, will conduct valuations at the Dunkeld Museum.
Bookings are essential for this event.
A maximum of four items may be appraised per person.
If you wish to have more than four items appraised a second appointment needs to be made as per the same pricing.
To make a booking please contact Mrs Wendy Williams on the number and email provided.
Event Dates
2016
      4th Jun
CornerWills Street & Templeton Street
Dunkeld, VIC, 3294
Located 13.2K from Warrayure
Serra Terror VI
The Serra Terror is an 80 kilometre endurance event held in the Grampians National Park every June long weekend.
Over two days, teams will battle the terrain and the elements as they hike, run or scramble the 80 kilometre course. Both days cover a rough marathon distance and both days will be spectacular.
Teams may enter as a four person endurance team, who will attempt to complete the course in its entirety, or as a relay team of five to eight members who are interchangeable at checkpoints.
The course changes yearly to maximise the breathtaking scenery on offer and to ensure that every year is a new challenge for the many return teams.
In 2015, the event will commence with a welcome briefing and light dinner on Friday evening and will conclude with a well deserved celebration at the Dunkeld Hall on Sunday evening.
Updates regarding this years event will be posted regularly on Facebook page, so please stay up to date by following the link provided.
Event Dates
2016
      11th Jun
      12th Jun
      13th Jun
Dunkeld, VIC, 3300
Located 13.6K from Warrayure
Harness Racing at Hamilton
Harness racing has been part of the Australian sporting calendar for 150 years now, and it becomes a bigger industry year on year.
In Australia, there are 91 harness racing tracks holding nearly two thousand meetings per year. Around 5000 standard bred horses are foaled and registered each year, and the sport features nearly 3000 drivers across the country, with 4000 registered trainers.
Join for a day of Harness Racing - fun for the whole family.
Event Dates
2016
      13th Jun
2017
      15th Jan
Ballarat Road
Hamilton, VIC, 3300
Located 14.9K from Warrayure
Hamilton parkrun
Hamilton parkrun is a free, weekly five kilometre timed run, walk or jog around Lake Hamilton for people of all abilities.
It is not a race against other runners, but a five kilometre timed run, jog or walk. It can really be whatever you want it to be, for fun or as part of a training plan.
Hamilton parkrun offers an opportunity for all members of our local community, male or female, young or old, to come together on a regular basis to enjoy our beautiful Lake Hamilton and get physically active in the process.
People are encouraged to walk, jog or run together irrespective of their ability - this event is truly open to all and best of all it really is free.
Taking part is easy - just register in advance by 6:00pm on the Friday before your first ever parkrun event. The great thing is that you only ever need to do this once. Then just set your alarm for Saturday morning and get yourself there.
Meet at the Lakes Edge Adventure Playground, Rippon Road Hamilton.
Event Dates
2016
      28th May
      28th May
      4th Jun
      4th Jun
      11th Jun
      11th Jun
      18th Jun
      18th Jun
      25th Jun
      25th Jun
      2nd Jul
      2nd Jul
      9th Jul
      9th Jul
      16th Jul
      16th Jul
      23rd Jul
      23rd Jul
      30th Jul
      30th Jul
      6th Aug
      6th Aug
      13th Aug
      13th Aug
      20th Aug
      20th Aug
      27th Aug
      27th Aug
      3rd Sep
      3rd Sep
      10th Sep
      10th Sep
      17th Sep
      17th Sep
      24th Sep
      24th Sep
      1st Oct
      1st Oct
      8th Oct
      8th Oct
      15th Oct
      15th Oct
      22nd Oct
      22nd Oct
      29th Oct
      29th Oct
      5th Nov
      5th Nov
      12th Nov
      12th Nov
      19th Nov
      19th Nov
      26th Nov
      26th Nov
      3rd Dec
      3rd Dec
      10th Dec
      10th Dec
      17th Dec
      17th Dec
      24th Dec
      24th Dec
      31st Dec
      31st Dec
2017
      7th Jan
      7th Jan
      14th Jan
      14th Jan
      21st Jan
      21st Jan
      28th Jan
      28th Jan
      4th Feb
      11th Feb
      18th Feb
      25th Feb
      4th Mar
      11th Mar
284 Rippon Road
Hamilton, VIC, 3300
Located 15.1K from Warrayure
Royal Mail Hotel William Thompson Dunkeld Cup
The award winning Dunkeld Cup is the worst kept secret in country racing.
Held at the most picturesque racecourse in Victoria this race day is one not to be missed.
Dunkeld Cup is the place where friends family and colleagues gather to get their annual fix of grass roots racing.
Make sure you get track side for all the action.
There will be a Shuttle Bus services running from Hamilton.
Event Dates
2016
      12th Nov
Cemetery Lane
Dunkeld, VIC, 3294
Located 15.3K from Warrayure
Warrayure: Travel Tips
Dunkeld and Grampians Visitor Information Centre
At the foot of Mount Sturgeon, the southern tip of the Grampians and the Great Dividing Range you will find the booming little town of Dunkeld and the Dunkeld and Grampians Visitor Information Centre.
Dunkeld was named after a town in the Scottish Grampians and has enjoyed a stellar revival in the last 15 years.
Dunkeld is well and truly on the tourist map now as the starting point for many who look to spend time in the Grampians, but Dunkeld has many highlights of its own.
You will find an Arboretum at the end of a pleasant walk along the small creek through town or for the more vigorous visitor, a hike up Mount Sturgeon, Mount Abrupt or the Piccaninny will provide great views of the entire Southern Grampians Range.
Dunkeld has a fascinating history documented at the Dunkeld Museum, a must visit to anyone coming to Dunkeld.
Dunkeld is quite simply spoilt with accommodation options. From the community Caravan Park to the ultra-modern eco-Lodges, traditional Bed and Breakfast to log cabins. It is no wonder more people are choosing to stay in Dunkeld as a base for a Grampians adventure.
Activities nearby include arts and crafts, birdwatching, bush walking, dining, historic sites, museums, native animal spotting, open gardens, photography, scenic drives, wine tasting, events and festivals.
Events such as a Dunkeld Races in November, Serra Terror in June and Discover Dunkeld, 'A Mosaic of Experiences' during October.
Parker Street
Dunkeld, VIC, 3294
Located 13.2K from Warrayure