Wail: Where To Go / Sightseeing
Little Desert National Park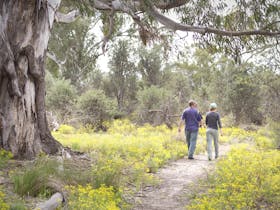 The range of soil types in Little Desert National Park causes marked differences in vegetation. Many species of plants and animals have succeeded, on poor soils with little water, in creating a kind of arid landscape where survival depends on maintaining a delicate balance of natural forces.
The best time to visit the park is between late winter and early summer when the temperatures are comfortable and the park is full of blossoms and wildflowers. Camp beside the Wimmera River, and enjoy bushwalks, birdwatching or four-wheel driving.
Aboriginal Traditional Owners
Parks Victoria acknowledges the Aboriginal Traditional Owners of Victoria - including its parks and reserves. Through their cultural traditions, Aboriginal people maintain their connection to their ancestral lands and waters.
Before you go
Conditions can change in parks for many reasons. For the latest information on changes to local conditions, please visit the relevant park page on the Parks Victoria website.
Be bushfire ready in the great outdoors. Refer to the Bushfire Safety section on the Parks Victoria website for tips on how to stay safe.
Western Highway
Dimboola, VIC, 3414
Located 11.1K from Wail
Wail: Events
ASCF Ladies Feature and Wingless Sprints
The Blue Ribbon Raceway extends a warm welcome to all drivers, crew and spectators and members take pride in the excellent Complex they have developed.
The Blue Ribbon Raceway is situated on land owned by the Horsham Motor Sports Club Inc, and is located on the Blue Ribbon Rd at Kalkee, 18 kilometres North of Horsham. It is approximately 320 kilometres from Melbourne and approximately 470 kilometres from Adelaide travelling on Highway A8
The Season's racing usually commences in October each year and closes with a huge weekend of racing fun on each June long weekend. A variety of feature events are offered throughout each season.
Racing will include Vintage Heavy Hot Rods, V8 Trucks, Street Stocks, 1200 Juniors, ASCF Open Sedans, Limites Sporties and Mechanics
Event Dates
2016
      11th Jun
      12th Jun
1650 Kalkee Rd
Kalkee, VIC, 3401
Located 10.5K from Wail
Grampians Classic Clay Target Competition
Grampians Classic is a Premium Clay Target Shoot being held at the Central Wimmera Clay Target Club. With quality of target, trophies and level of sponsorship, this is the largest two day shoot in Country Victoria.
Camping with hot showers is available. Please call for more information.
Event Dates
2016
      8th Oct
      9th Oct
Polkemmet Road
Horsham, VIC, 3400
Located 18.2K from Wail
Annual Cross Country Soaring Competition
The annual cross country soaring competition is happening at the Horsham aerodrome.
It is your chance to see some of the states best glider pilots in action. Cross country soaring tasks are set in the mornings with gliders launched as soon as the weather conditions will permit. Gliders to be launched early afternoon. All are welcome.
Event Dates
2017
      11th Feb
      12th Feb
      13th Feb
      14th Feb
      15th Feb
      16th Feb
      17th Feb
      18th Feb
288 Geodetic Road
Horsham, VIC, 3400
Located 18.9K from Wail
Monster Energy Motocross Nationals - Round One
Round one of the Monster Energy Motocross Nationals, Australian Motocross championship is coming to Horsham. Come and see the best motocross riders in Australia battle out for the win in the first round of the championship.
Riders Todd Waters and Dean Ferris return from racing internationally in MXGP along with reigning Motocross one champion, Kirk Gibbs and Motocross two Champion, Jay Wilson all lining up in Horsham. New teams, new trucks and new riders will make for an exciting race day at the Dooen Recreation Reserve.
Event Dates
2017
      2nd Apr
560 Henty Highway, Dooen
Dooen, VIC, 3401
Located 21.5K from Wail
Annual Three Day Rock 'N' Roll Festival
Horsham Rockers present the Annual Three Day Rock 'N' Roll Festival in the Horsham College Hall.
These three days will be filled with five races consisting of dancing demonstrations and lively music.
The location of each race will vary - including the Horsham Plaza, Horsham RSL and Horsham Angling Club Rooms.

Event Dates
2016
      28th Oct
      29th Oct
      30th Oct
Dimboola Road
Horsham, VIC, 3400
Located 22.9K from Wail
Horsham and District Orchid Society Spring Show
The Spring Orchid Show is a weekend of tips for garden enthusiasts to make the best of growing plants in a challenging environment. See Orchids grow and shown to perfection.
The Spring Orchid Show celebrates the diversity of orchids. There are orchid display, demonstrations, guest speakers and much more.
If you love orchids, then this in one event not to be missed.
Event Dates
2016
      1st Oct
      2nd Oct
Dimboola Road
Horsham, VIC, 3400
Located 22.9K from Wail
Horsham Chaplaincy Book Fair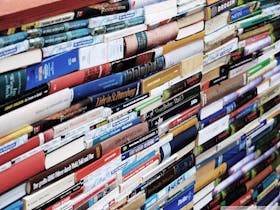 The Horsham Chaplaincy Book Fair happens twice a year, selling a large range of second hand books. An excellent range of books including historical, cooking, religious, sports, fiction, romance, kids books, magazines and lots more.
Books from as little as a dollar and magazines and kids books from fifty cents.
Proceeds to support the Horsham College Chaplaincy. Book donations welcome.
Event Dates
2016
      11th Nov
      12th Nov
Dimboola Road
Horsham, VIC, 3400
Located 22.9K from Wail
Northfest 2016
Come join in and enjoy local bands, children's activities, mobile zoo, healthy food and displays by service providers, arts and crafts, community groups and other organisations. Fun for the whole family including a variety of children's rides and activities that will be free.
This is a free event from 11:30am to 3:30pm held at North Foundry Gardens Horsham.
Event Dates
2016
      28th Aug
      16th Oct
Palm Avenue
Horsham, VIC, 3400
Located 23.8K from Wail
Horsham Car and Bike Show
The Horsham Car and Bike Show will hold its annual Show and Shine event on March Labour Day weekend.
Event organisers raise funds for the Wimmera Against Cancer in Kids group, which assists families who are having to deal with the trauma of having a child with cancer.
Gold Coin donations are welcome at the entrance.
For more information, please see the website.
The event runs from 9:00am to 3:00pm.
Event Dates
2017
      12th Mar
Ballie Street
Horsham, VIC, 3400
Located 23.9K from Wail