Pomonal: Where To Go / Sightseeing
Halls Gap Zoo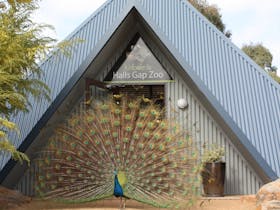 Halls Gap Zoo is Victoria's largest regional zoo exhibiting over 160 native and exotic mammals, reptiles and birds from cheetah, giraffe, meerkats, monkeys, red pandas and bison to kangaroos, koalas, Tassie devils, wombats, crocodiles, snakes and dingoes.
Halls Gap Zoo is home to a number of endangered species captive breeding programs. Overall management of these programs is by a species coordinator through the Zoo Aquarium Association (ZAA) which is an association that links over 90 zoos and aquariums across the Australasian region, including Australia, New Zealand and the Pacific Islands.
Visitors have the opportunity to have close encounters with a number of species while at Halls Gap Zoo. Special animal food can be purchased to hand feed kangaroos, wallabies and deer or as an optional extra experience meerkats climbing onto your lap, go in with the dingoes or perhaps holding a reptile would appeal.
The two and a half kilometre pathway around the zoo is suitable for wheelchairs and strollers. Enjoy a picnic or barbecue lunch while the children amuse themselves in the playground.
Halls Gap Zoo have snack food, drinks and souvenirs available. For further information please contact them or view their website.
4061 Ararat-Halls Gap Road
Halls Gap, VIC, 3381
Located 6.6K from Pomonal
Grampians Adventure Golf, MOCO Gallery and Cafe
Grampians Adventure Golf, MOCO Gallery and Cafe is nestled in the heart of the spectacular Grampians National Park in Halls Gap.
This course has a reputation as being one of the best in Australia and indeed the world. Adjoining this, MOCO Gallery provides welcome opportunity to view artworks by award-winning and well respected local artists such as Helen Leach, Nanette Bourke, Val McCann, Beth Wilkinson, Debbie Russell. Photography, John Tiddy. Pottery, Amelia Kingston, Alison Gebert
Hosts Monique and Colin Cummings say their visitors encourage you to see it first as you may want to visit again before you leave the region.
The Course, designed to give players the feeling that they are playing in the mountains, is modelled on the Grampians itself with many of the holes named after the more popular icons that are visited in the region and with 18 challenging holes to play.
There are mini mountains from which streams and waterfalls cascade. Fairways run under, over and around these mini mountains with the water courses providing some of the challenges that players must overcome.
Grampians Adventure Golf, MOCO Gallery and Cafe has the traditional clubhouse plus so much more in a delightful garden ambience; the perfect setting in which to relax as light lunches are being served. Staples plus seasonal extras are on offer. Devonshire teas, good espresso coffee and T2 teas another favourite. Fully licensed including local wines from Halls Gap Estate Vineyard. There's also wifi, children's activity bags, meal deals, games and puzzles. The course is also well shaded during Summer.
There is a "Australia's first Jackpot Hole" played for a hole-in-one. A computer screen shows the jackpot dollars which increase each time a ball is purchased. If a hole-in-one is achieved, the winner takes all.
475-481 Grampians Road
Halls Gap, VIC, 3381
Located 6.7K from Pomonal
Brambuk - The National Park and Cultural Centre
Brambuk - The National Park and Cultural Centre is a special place. Situated in Halls Gap within the natural oasis that is Grampians Gariwerd, it is the perfect place to experience Australia's native flora and fauna and Aboriginal culture.
The site incorporates the National Park information and Brambuk Aboriginal Cultural centres.
Brambuk - The National Park and Cultural Centre is 100 per cent owned and operated by Aboriginal people and is the longest running Aboriginal Cultural Centre in Australia.
Its multi award winning architecture interprets the traditional stories of the local Aboriginal people. Discover the culture of the Aboriginal communities of Western Victoria through multimedia shows, art exhibitions, artefact displays, cultural talks and lots of great activities such as didgeridoo music, traditional dance, basket weaving, boomerang throwing and painting.
Discover the unique six seasons of Gariwerd through the displays or join the Aboriginal guides on tours to ancient rock art sites and experience the secrets of the natural world. Brambuk Gift Shop offers art and crafts, ceramics, paintings, boomerangs and music. The Bush Tucker Caf? is licensed and serves delicious bush tucker and contemporary food.
Please note that conditions can change in parks for many reasons. For the latest information on changes to local conditions, please visit the relevant park page on the Parks Victoria website.
Be bushfire ready in the great outdoors. Refer to the Bushfire Safety section on the Parks Victoria website for tips on how to stay safe.
277 Grampians Road
Halls Gap, VIC, 3381
Located 8.0K from Pomonal
Steve Morvell Wildlife Art
Steve Morvell Wildlife Art Studio is located in the picturesque Halls Gap, in the Western Victorian region of the Grampians.
Steve Morvell is a highly acclaimed environmental artist, dedicated to raising human awareness of the beauty and fragility of wildlife and the habitats in which are co-existed. A deep need to understand animals on their own terms takes Steve to many wild places such as Western China, Africa, Nepal and Outback Australia researching his art. His powerful and evocative work is exhibited around the world winning many major art awards and hangs in private, public and corporate collections globally.
His art is featured on television, radio and books, some also include many national and international magazines and on Australian Postage Stamps. He is a member of the Wildlife Art Society of Australasia, a signature member of the prestigious global group Artists For Conservation and is also an official ambassador for the Wildlife Art Museum of Australia. He works tirelessly for the conservation of the natural world.
Steve, a former park ranger, spends long hours observing animals in their natural habitat. He only paints animals he has met in person since his life's passion is learning ever more about real nature. Steve's artworks capture delightfully intimate encounters with often shy and elusive species. His recognition of the spirit of the bush and its creatures leaves a lasting impression on the viewer.
In the field of wildlife art he has a reputation as an innovator and his works are aimed squarely at one thing. Giving the viewer a real sense of being there.
159 Grampians Road
Halls Gap, VIC, 3381
Located 9.3K from Pomonal
Halls Gap Newsagency and Gifts
Halls Gap Newsagency and Gifts specialise in all Australian maps including four wheel drive maps of the outback.
In business for over 70 years, the Newsagency offer visitors maps, Halls Gap and Grampians visitor information and specialise in low priced Australian made gifts and souvenirs.
You are encourage to visit the big tree and take a photo with their resident kangaroo.
They have a great range of magazines and newspapers, books on the region, Australiana maps and publications. Visitors can also purchase from a large range of indigenous souvenirs.
107 Grampians Road
Halls Gap, VIC, 3381
Located 9.8K from Pomonal
Grampians National Park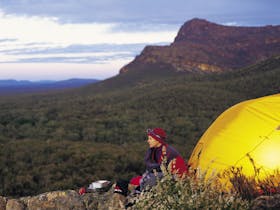 Rising abruptly from the surrounding Western Plains, the Grampians (Gariwerd) is a series of rugged sandstone mountain ranges and forests rich in wildlife. One of Victoria's most popular holiday destinations, the park is a great venue for camping, climbing, scenic drives, bushwalks and nature study.
A network of walking tracks throughout the park allows you to explore cascading waterfalls, brilliant spring wildflower displays, and panoramic views from lookouts.
Drive to Reeds and Boroka lookouts for spectacular views or visit the magnificent MacKenzie Falls. The area has a rich Aboriginal heritage and a number of important rock art sites.
Aboriginal Traditional Owners
Parks Victoria acknowledges the Aboriginal Traditional Owners of Victoria - including its parks and reserves. Through their cultural traditions, Aboriginal people maintain their connection to their ancestral lands and waters.
Before you go
Conditions can change in parks for many reasons. For the latest information on changes to local conditions, please visit the relevant park page on the Parks Victoria website.
Be bushfire ready in the great outdoors. Refer to the Bushfire Safety section on the Parks Victoria website for tips on how to stay safe.
Tourist Road
Halls Gap, VIC, 3381
Located 10.0K from Pomonal
Pomonal: Events
Run the Gap
Halls Gap in the heart of the majestic Grampians National Park, one of Victoria's most stunning natural features, will play host to the fifth Run the Gap event in May 2016.
Wildlife such as emus, kangaroos, echidnas and wallabies may be seen along the course and participants can choose to complete either a 6km walk / run along Fyans Creek trail, go the distance in the 12km part trail, part varied surfaces run, with a lap across the wall at the stunning Lake Bellfield or for those experienced trail runners looking for a further challenge, test yourself in the 21km trail run.
With breathtaking views of Mt. William and the Serra Ranges. Halls Gap Village is the perfect place to finish, where participants are able to enjoy a complimentary barbecue Brunch in Parklands. Fun for friends and family and open to all ages.
Supported by Halls Gap Tourism, Northern Grampians Shire Council, Parks Victoria, GWM Water, many business and community members in Halls Gap. Run the Gap is a not for profit community based organisation. All profits go towards funding proposals to add to, extend and enhance walk / bike tracks in Halls Gap.
Find out more and register soon on the website.
Event Dates
2016
      22nd May
Grampains Road
Halls Gap, VIC, 3381
Located 7.3K from Pomonal
RACV Great Victorian Bike Ride
The RACV Great Victorian Bike Ride is a fun, friendly and challenging camping holiday. It is the opportunity to spend a week in another world, where you join our canvas community while exploring the beautiful Victorian countryside by bike.
Join Bicycle Network as they take you on a journey from the Grampians to the Great Ocean Road, through some of popular coastal and inland towns in Victoria. Heading into its 33rd year, the 2016 ride is sure to be a memorable event.
Event Dates
2016
      26th Nov
      27th Nov
      28th Nov
      29th Nov
      30th Nov
      1st Dec
      2nd Dec
      3rd Dec
      4th Dec
Halls Gap
Halls Gap, VIC, 3381
Located 9.9K from Pomonal
Wonderland Run
Travel to the Grampians for one of Victoria's most scenic running events - Wonderland Run. With a level of intensity not experienced in any other event, you will be engulfed by a whole different world. You are in the landscape. It will chew you up and spit you out, and you will love it.
All events based from Halls Gap in the mighty Grampians.
Eight kilometre 'short' trail run - 2:00pm Saturday 20 August.
20 kilometre and 36 kilometre full impact trail runs - 7:00am Sunday 21 August.
Please visit the website for more information including how to register.
Event Dates
2016
      20th Aug
      21st Aug
School Road
Halls Gap, VIC, 3381
Located 10.0K from Pomonal