Narioka: Where To Go / Sightseeing
Barmah National Park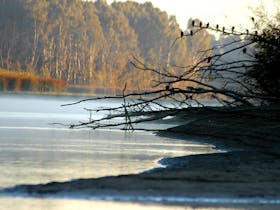 Barmah National Park, together with the adjoining Millewa forest in New South Wales, forms the largest River Red Gum forest in the world. The complex ecology of the forest is closely linked to the Murray River and its flooding regime, creating a diverse natural habitat for a variety of wildlife, particularly waterbirds.
Barmah is a great spot for camping. Days can be easily filled with fishing, horse riding, bushwalking, swimming and canoeing.
How to get there
Barmah National Park lies along the Murray River between the towns of Barmah and Strathmerton, about 225km north of Melbourne. Access to the 12 major entrance gates is available from the Moira Lakes Road, Barmah-Picola Road, and the Murray Valley Highway.
Before you go
Conditions can change in parks for many reasons. For the latest information on changes to local conditions, please visit the relevant park page on the Parks Victoria website.
Be bushfire ready in the great outdoors. Refer to the Bushfire Safety section on the Parks Victoria website for tips on how to stay safe.
Moira Lakes Rd
Barmah, VIC, 3639
Located 4.1K from Narioka
Yenbena Indigenous Training Centre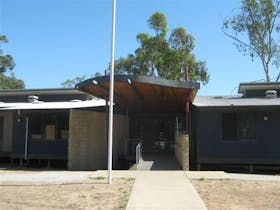 Yenbena Indigenous Training Centre is Indigenous owned and operated. Yenbena is a community centre that provides Cultural Interpretation to school groups, caravanners, locals and visitors to the area.
If you would like to know more about Aboriginal Culture and the Yorta Yorta people, the centre has Aboriginal artefacts on display. Fresh vegetables are grown from the community garden that can be purchased at the centre and tea and coffee or cateringis available for visiting groups.
Yenbena Indigenous Training Centre is a registered training organisation and are nationally accredited for training to all people.
Corner Schier and Tinkler Streets
Barmah, VIC, 3639
Located 6.3K from Narioka
Long Paddock - Cobb Highway Touring Route
The Long Paddock - Cobb Highway Touring Route which follows The Cobb Highway (named for the famous coach company) from Echuca Moama on the Victorian border, through to Wilcannia leading to the iconic outback towns of Bourke, Broken Hill and White Cliffs.
There are 11 major public artworks making the touring route the largest art gallery in the world, and 47 information panels all the way along the route tell the local stories. You can pick up an audio tour CD to help you on your journey across this working stock route.
As you cross the Darling, Lachlan, Edward, Murrumbidgee or Murray rivers, take the time to throw a line in or go for a paddle. A wealth of wildlife and majestic scenery welcomes you at every stop.
The Long Paddock is an easy touring route that can take you north or south without the traffic.
Cobb Highway (Moama to Wilcannia)
Moama, NSW, 2731
Located 19.3K from Narioka
Barmah Forest Heritage and Education Centre
Visit the Barmah Forest Heritage and Education Centre in Nathalia to discover and explore the colourful history of the Barmah National Park.
Learn about the fascinating and diverse history of this iconic region and be amazed at the struggles and achievements of the local forefathers, from pre-history to the present day.
Stories are told in an easy going style that educates and enlightens. Displays include local indigenous history, timber industry, wood cutters, river boats, leach and feather collectors, cattlemen and more.
The centre is a great resource for schools, educational, tour groups and social groups, with a video room available. Guest speakers can be arranged to speak to your school or group
A visit to the Barmah Forest Heritage and Education Centre is a must before seeing the heritage listed Barmah National Park.
73 Blake Street
Nathalia, VIC, 3638
Located 20.4K from Narioka
Echuca Paintball and Laser Tag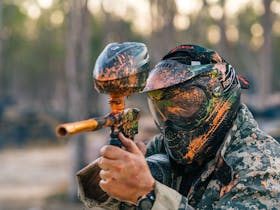 Paintball and Laser Tag Games in Echuca Moama is set on 300 plus acres with over 20 different themed areas to choose from. State of the art equipment and facilities including air-conditioned amenities, function area with licensed bar and change rooms, showers and toilets.
Ages 16 and up can play Paintball and all ages can play Laser Tag.
Echuca Paintball also have a function area with console gaming machines for a bit of fun while you wait, or it is ideal for a corporate work function or birthday party with extra televisions for anybody waiting. They specialise in bucks, birthdays and sporting club events.
There are undercover break areas in playing zones with toilets, and paintball vending machines to help you reload on the go, making your day much easier and practical - no waiting for reloads! Their armoury consists of many upgrades available including electronic "Ramping" Paintball Guns - so the bigger the package the cheaper the Paintballs! Plus a refund system to allow you to refund any unused paintballs (in pods).
A highly rated "To Do" when you're in Echuca Moama - you won't be disappointed. Check out the pictures on facebook after you've played!
594 Old Deniliquin Road
Moama, NSW, 2731
Located 21.5K from Narioka
Nite Paintball Games Moama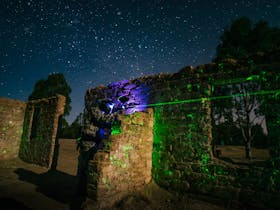 Nite Paintball Games Moama is Australia's only night, glow in the dark, outdoor paintball centre. Their patented product allows paintballs to fly through the air glowing and you can see it coming.
Great fun and with great facilities for player comfort including under cover break areas and amenities with kiosk and licensed bar look no further for a great night.
Available for anyone aged 16 and above. A fun time for Bucks parties, social functions, birthdays and for a group of friends looking for something different.
Bookings essential.
594 Old Deniliquin Road
Moama, NSW, 2731
Located 21.9K from Narioka
Cockatoo Island Art Retreat
Visit the Cockatoo Island Art retreat on the beautiful Broken Creek at Nathalia. Walk amongst the artists and view their work.
Classes are available to all ages and to artists from beginner to accomplished. Painting and sculpture classes are available in a relaxed and welcoming environment.
Glenda Cornell teaches and produces art (paintings, sculptures and murals), produces public art on a commission basis and works with schools as an artist in residence.
Art classes at Cockatoo Island Art Retreat are on the banks of the Broken Creek.
Community art projects include producing murals and working on street beautification projects. Glenda also works on private commissions and produces art work for local art shows.
A large range of art supplies are also available, as well as paintings and sculptures for sale.
Glenda Cornell has recently opened the Whistlestop Studio Gallery on the wharf at Echuca. The Whistlestop stocks a range of Glenda's works and art and craft from other local artists. Ross Paterson's wonderful watercolours are also available for sale at the Whistlestop Studio Gallery
443 Paynes Road
Nathalia, VIC, 3638
Located 22.9K from Narioka
Narioka: Events
Nathalia Lions New Years Eve Carnival
Having run for more than 50 years, the Nathalia New Years Eve Carnival is the only major event of its kind in the area. Occurring concurrently with the festival is Art Windows Festival which showcases regional art in the widows of retail and professional shopfronts in Blake Street Nathalia.
A large number of works are also hung in the Barmah Forest Heritage and Education Centre which is open seven days a week in Blake Street during normal business hours. The Heritage Centre also acts as the Tourist Information Centre so a must for visitors to town.
The Art Windows Festival commences on 1 December and will continue until 29 January. It is free and can be viewed all day, each day and is not to be missed. Wander beautiful Blake Street and see paintings, ceramics, photographs and more.
The carnival itself commences on New Years Eve on Blake Street and will officially begin with the arrival of cars for the show and shine. The Broken Creek Cruise Show and shine has proven very popular and attracts a wide range of cars, motorcycles and even vintage trucks. It commences at 4pm.
At 4:00pm the Highway is closed and the carnival rides and the street market commence. There is a gourmet food court on the banks of the Broken Creek as well as the local cafes and hotels open for meals and drinks.
The event is alcohol free and designed to be an affordable family event with free demonstrations of sheep shearing, wood chopping and sleeper cutting together with an animal nursery. The night culminates with a massive fireworks display at the recreation reserve at midnight, a gold coin donation helps to cover the costs and it is one of the best fireworks displays in regional victoria running for around 20 minutes.
Event Dates
2016
      31st Dec
Blake Street
Nathalia, VIC, 3638
Located 20.3K from Narioka
Billabong Ranch Brumby Run
Billabong Ranch Brumby Run, 12 kilometres and over 25 obstacles. Are you up for the Challenge?
Run, walk or scramble. It doesn't matter how you finish as long as you have a go. Enter your group or team for the chance to win the lucky group prize. Largest group entry also receives a prize.
Bar open all weekend, no BYO alcohol please, with music and drinks around the camp fire Saturday night.
Parking Fee proceeds from parking going to Echuca Hospital Make Your Mark.
Event Dates
2016
      29th Oct
Glanville Road and Tehan Road
Echuca, VIC, 3564
Located 20.9K from Narioka
Narioka: Travel Tips
Nathalia Barmah Visitor Information Centre
Nathalia Barmah Visitor Information Centre can help you explore the areas of Nathalia and Barmah, and show you the best attractions nearby.
Nathalia is set on the beautiful Broken Creek, it is a haven for visitors looking for a peaceful holiday with a welcoming ambience. Take a leisurely stroll along the main street to see historic buildings from days gone by. These add charm to the shopping strip where you'll find eateries and specialty stores.
Be sure to look out for local galleries and exhibitions. The Nathalia Golf Club is nearby or simply sit along the banks of Broken Creek in the centre of town.
A must see attraction is the Barmah Forest Heritage and Education Centre. It offers terrific information for those looking to explore the nearby Barmah National Park. Find out about the local indigenous culture, way of life and achievements.
Barmah is the gateway to the Barmah National Park, home to the largest stand of River Red Gums in the world and a wetland that is recognised under the Ramsar Convention as a wetland of International significance.
And they are not talking just any River Red Gum! Some of these trees are over 500 years old and grow to an astonishing thirty or forty metres in height. The Yorta Yorta indigenous community has lived in this area for more than 40,000 years, and today descendants remain to live and share this rich heritage.
A sixty kilometre self-drive tour takes you to places of interest throughout the park, including sacred Aboriginal sites, flora and fauna. Being on a major flight path for migratory birds, the park's wetlands are significant breeding grounds for water birds. Bush camping is enjoyed in the park, with canoeing or kayaking a great way to explore the waterways of this area.
73 Blake Street
Nathalia, VIC, 3638
Located 20.4K from Narioka