Mitchellstown: Where To Go / Sightseeing
Black Caviar Statue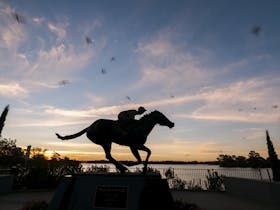 On 24 October 2013, history was created when Nagambie became home to the life size bronze statue of the world famous mare Black Caviar.
The champion mare is the fastest horse in the world, undefeated in all her 23 races.
Black Caviar was born on 18 August 2006 at Gilgai Farm in Nagambie, Victoria. She grew up on the Goulburn River property and then went to Swettenham Stud in December 2007 for a ten-week yearling preparation where she was then sold on behalf of Rick Jamieson to the current owners to be trained by Peter Moody.
Jacobsons Outlook,
High Street
Nagambie, VIC, 3608
Located 10.2K from Mitchellstown
Avenel Cemetery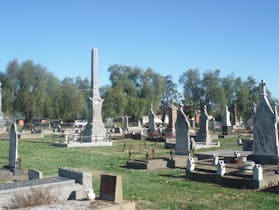 Steeped in history, visit the many graves scattered around the Avenel Cemetery.
Of important note here is the grave of John 'Red' Kelly, the father of the infamous Ned Kelly. 'Red' was laid to rest at the age of 45 on the 28 December 1866. He died in the Kilmore Gaol after his health was ruined due to alcohol abuse.
28 Queen Street
Avenel, VIC, 3664
Located 13.5K from Mitchellstown
Historic Hughes Creek Bridge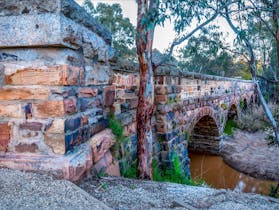 Hughes Creek was named after the first settler in Avenel, for many years it was a popular overnight stop for drovers. The bridge was built in 1859 by contractor Hugh Dalrymple for the Board of Lands and Works in Victoria.
The Historic Hughes Creek Bridge is perhaps better known for its association to Ned Kelly. At the age of 11, Ned rescued Richard Shelton who had fallen into the creek after trying to cross over on a tree bridge. The incident occurred only 150 metres downstream from the Bridge.
A green silk cummerbund was awarded to Ned for his bravery by Richard's parents. Ned was wearing the cummerbund when he was captured at the Siege of Glenrowan.
Henry Street
Avenel, VIC, 3664
Located 14.0K from Mitchellstown
Australian Army Tank Museum
Located on the working Puckapunyal Military Base, the Australian Army Tank Museum is home to over 70 armoured fighting vehicles, making it one of the largest armour museums in Australia.
Mementos of your visit can be purchased from the model and souvenir shop.
Make a day of your visit, with barbecue facilities are available for visitors to use onsite.
Please note that as the museum is located on a working military base it may close suddenly for security reasons.
Herakleion Parade
Puckapunyal, VIC, 3662
Located 15.6K from Mitchellstown
Mitchellstown: Events
Tar and Roses Cellar Door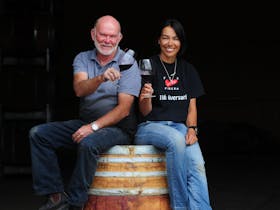 Tar and Roses Wines cellar door is open the first full weekend of each month from 10:00am to 4:00pm. Come along and taste their range of wines from Central Victoria.
Tar and Roses specialise in Mediterranean grape varietals from Pinot Grigio to Nebbiolo, from which their name is derived. You will also find Sangiovese and Tempranillo as well as Australia's favourite, Shiraz.
Event Dates
2016
      6th Feb
      7th Feb
      5th Mar
      6th Mar
      2nd Apr
      3rd Apr
      7th May
      8th May
      4th Jun
      5th Jun
      2nd Jul
      3rd Jul
      6th Aug
      7th Aug
      3rd Sep
      4th Sep
      1st Oct
      2nd Oct
      5th Nov
      6th Nov
      3rd Dec
      4th Dec
61 Vickers Lane
Nagambie, VIC, 3608
Located 8.9K from Mitchellstown
Rowing Victoria Masters Championships
The 2016 Rowing Victoria Masters State Championship Regatta will be run over two days at Nagambie Lakes.
Four brackets of events will be run each day, heats at the beginning of the bracket if required. There will be approximately 15 to 30 minutes between each bracket.
Crews and scullers are able to row multiple events in one bracket if they feel they will be able to trun around in the time frame allowed.
There will be 4 to 5 minutes between races.
Feedback on the event order is welcome prior to entries opening on 13 April 2016. Event order may change based on member feedback until this time.
Nagambie is home to the Nagambie Lakes - which form a regional reservoir, and venue for many state and national rowing championships. The Nagambie Lakes Regatta Centre is one of Victoria's major water sports facilities. The venue offers a 2000m, fully buoyed, National Standard rowing and canoeing course.
Event Dates
2016
      14th May
      15th May
Loddings Lane
Nagambie, VIC, 3608
Located 9.3K from Mitchellstown
Nagambie Lakes Community Market
The Nagambie Lakes Community Market is located on the grassy south-eastern bank of beautiful Lake Nagambie starting at Jacobson's Outlook parallel with High Street and flows along the walkway to Blayney Reserve (behind the Waterfront Motel).
The market is held the first Saturday of each month from 9:00am to 1:00pm, plus extra markets to coincide with community or tourism events. The market runs with a make, bake, sew and grow theme that insists on a high level of local and Australian content.
Regular stalls include fresh local and regional produce, local and regional products (sauces, jams, honey, furniture), goats meat products, soaps and candles, leather products, hats and socks, and garden ornaments and plants.
Visitors will also find handmade jewellery, tech accessories, plants, cakes, hot and cold food and drinks, craft and giftware, and books and DVDs.
Take a drive to Nagambie, less than 90 minutes from Melbourne and centrally located. The market is rapidly growing and has lots to offer with off street parking at Buckley Park and stunning views over the lake.
Central Victoria's only absolute water-front market.
Event Dates
2016
      6th Feb
      5th Mar
      26th Mar
      2nd Apr
      7th May
      4th Jun
      2nd Jul
      6th Aug
      3rd Sep
      1st Oct
      29th Oct
      5th Nov
      3rd Dec
Jacobsons Outlook, High Street
Nagambie, VIC, 3608
Located 10.4K from Mitchellstown
Cougar and Co in Cabaret
The Royal Mail Hotel, Nagambie, in conjunction with d&m entertainment presents Cougar and Co in Cabaret, a celebration to the songs of Grease, Abba and so much more.
Dinner and show from 6:00pm. Two course meal and drink on arrival.
Come along and enjoy a great nights entertainment, a fabulous meal and dance the night away.
Event Dates
2016
      7th May
350 High Street
Nagambie, VIC, 3608
Located 10.6K from Mitchellstown
Avenel Make It, Bake It, Grow It Market
The Avenel Market features the work of local craftspeople from jewellery to wood and metal pieces, as well as fresh fruit and vegetables, mushrooms and local olive oil products along with wine and wonderful eats.
There is also a free kids art table and live music - sure to be something for every member of the family.
The market is located about an hours drive from Melbourne and is close to the Goulburn River and local wineries.
Event Dates
2015
      8th Feb
      8th Mar
      12th Apr
      10th May
      14th Jun
      12th Jul
      9th Aug
      13th Sep
      11th Oct
      8th Nov
      13th Dec
2016
      14th Feb
      13th Mar
      10th Apr
      15th May
      12th Jun
      10th Jul
      14th Aug
      11th Sep
      9th Oct
      13th Nov
      11th Dec
9 Jubillee Crescent
Avenel, VIC, 3664
Located 13.6K from Mitchellstown
Mitchellstown: Travel Tips
Nagambie Lakes and Strathbogie Ranges Visitor Information Centre
Within an easy 90 minute drive of Melbourne, you can be standing on the shore of one of Australia's most scenic places, Lake Nagambie, where you can go fishing, water-skiing, sailing, rowing or canoeing.
Indulge in award winning wines from historic wineries such as Tahbilk, Mitchelton and Fowles or boutique vineyards such as Maygar's Hill, Longleat and Garners. Or enjoy picturesque views from the granite topped hills near Strathbogie and Violet Town, surrounded by pristine bushland.
Nagambie is the birthplace of Black Caviar - do not miss the statue erected in her honour in the main street. Nagambie is also home to a nationally renowned rowing and canoeing venue which regularly hosts state and national championships. Yet only 15 minutes away the Strathbogie Ranges offers a dramatic landscape with breathtaking views around every corner.
Picturesque villages are dotted throughout the region with wonderful history and heritage, antiques and good food and wine a plenty. From Avenel, Euroa, Longwood, Strathbogie, Ruffy, Boho and Violet Town, each boasts their own great old pubs, beautiful gardens, art galleries, museums, antique shops, cafes and lovely old buildings.
Linking the entire region is the beautiful Goulburn River and within a stone's throw visitor's can enjoy the delights of the greater Goulburn River Valley, the heart of Victoria, which includes the pretty townships of Yea, Lake Eildon, Murchison, Rushworth, Seymour, Shepparton, Tallarook and Trawool.
Assistance with accommodation bookings available, as well as tour bookings and activity options.
3/317 High Street
Nagambie, VIC, 3608
Located 10.3K from Mitchellstown