Waubra Junction: Where To Go / Sightseeing
Ballarat Turf Club
The Ballarat Turf Club racing at Sportsbet-Ballarat, boasts one of provincial Victoria's premier racetracks, hosting an average of 30 race meetings in any race season, the most conducted on any grass circuit in regional Victoria.
The club boasts two grassed racing tracks and a Tier One training facility which accommodates over 300 horses each morning. The Ballarat Turf Club also features modern grandstand facilities and on-course member and visitor facilities, placing it at the forefront of the country racing industry.
The Ballarat Turf Club's feature event is the Sportsbet.com.au Ballarat Cup. It is the concluding feature event of the Victorian Spring Racing Carnival. The club's other feature meetings include the Petrogas Gold Nugget Race Day, Ladies Day, Total Tools Tradies Day and Porter Plant Cup Day.
240 Kennedys Road
Miners Rest, VIC, 3352
Located 3.1K from Waubra Junction
Ballarat Exhibition Centre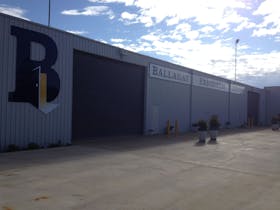 Ballarat Exhibition Centre is host to the Ballarat Antique and Vintage Fair, Mechanica Car Show, the Old Trades Exhibition and many other varying exhibitions and sporting events.
Ballarat Exhibition Centre is a clear span, undercover events and exhibition centre with a floor area in excess of 5000 square metres, a further 2,500 square metres of concrete hard stand and 2,000 square metres of lawn area at the front of the building. With the added convenience of 300 car parks adjacent to the venue and 850 car parks within 200 metres walking distance, the Centre can cater for a range of event types.
The venue is suited to hosting expos and conferences, wine and food shows, show and shines, sporting events and markets. Easy accessibility makes the venue ideal for those with disabilities. The floor is flat concrete covered with carpet tiles. High roller doors allow access for bump in and bump out. A forklift is available for the docking area.
501-503 Dowling Street
Wendouree, VIC, 3355
Located 5.8K from Waubra Junction
Creswick Regional Park
Centrally located between Ballarat and Daylesford, this park is home to a variety of native wildlife and colourful spring wildflowers.
Explore the ancient hills and discover the relics of the gold mining era on a bushwalk or mountain bike ride - or simply relax and enjoy the peaceful surroundings with a picnic by tranquil St Georges Lake.
Before you go
Conditions can change in parks for many reasons. For the latest information on changes to local conditions, please visit the relevant park page on the Parks Victoria website.
Be bushfire ready in the great outdoors. Refer to the Bushfire Safety section on the Parks Victoria website for tips on how to stay safe.
Midland Hwy
Creswick, VIC, 3363
Located 6.0K from Waubra Junction
Creswick Courthouse Theatre
Creswick Theatre Company prides itself on providing audiences with quality and value-for-money entertainment. They have provided opportunities for many actors and off-stage personnel, many of whom have moved on to bigger and better things.
Anyone with an interest in theatre will be given an opportunity to become involved, regardless of experience. Assistance with set building, lighting, sound, costumes or other front of house or back stage roles are as important to Creswick Theatre Company as their performers.
Creswick Theatre Company have introduced a monthly film night which is a nice way to catch up with other members and local film buffs.
Raglan Street
Creswick, VIC, 3363
Located 6.6K from Waubra Junction
Creswick Museum
Creswick Museum is an accredited museum and is housed in the former Municipal Offices of the Shire of Creswick, the Town Hall complex. The Research Centre is housed in the old Infant Welfare Centre. The Museum in 2014 was awarded Volunteer Museum of the year for it's Spirit of China in Creswick Exhibition.
The Town Hall was built in 1876, a magnificent two storey National Trust classified building, with a tower and clock. The interior of the building is notable for the magnificent classic winding staircase of local Basalt. From the balcony on the second floor you can look down onto the Exhibition Gallery.
The nucleus of the collection was provided by the late E.J. Semmens and have been fortunate to receive several bequests. The collection has been expanded with works of the artistic Lindsay family, especially by Lionel and Daryl. The Lindsays spent their childhood in Creswick. Paintings by Moyle and Tibbitts illustrate Creswick during the goldrush era. Victor Litherland bequeathed to the people of Creswick the paintings in his studio. Paintings by Bernaldo and Longstaff are also featured.
Creswick was the place where the New Australasian Gold Mining Disaster happened in 1882 with the loss of 22 miners. Of the 27 miners who were trapped in the mine on the 12th December 1882 only five came out alive. The Museum has a display telling the story. Also on display artefacts from the mining era, including the lunch pail on which one of the deceased miners wrote his farewell message. Notable other people in the region were John Curtin, Captain Hepburn, Sir Alexander Peacock and William Spence.
The Research Centre is a Place of Deposit, Public Records Office. Amongst the collection is Creswick Advertisers 1859 to 1974 and maps of the district.
Town Hall Building,
70 - 72 Albert Street
Creswick, VIC, 3363
Located 6.8K from Waubra Junction
Waubra Junction: Events
Sportsbet.com.au Ballarat Cup
Soak up the atmosphere and excitement of the premier sporting and social event on Ballarat's calendar; the 2016 Sportsbet.com.au Ballarat Cup on Saturday, 19 November.
The Sportsbet.com.au Ballarat Cup is ideally placed at the end of the popular Spring Racing Carnival, and is a perfect opportunity for racegoers to come together and enjoy themselves in the terrific setting of Sportsbet-Ballarat.
With a total of one million dollars in prize money and a racing program featuring the $200,000 Sportsbet.com.au Ballarat Cup, plus events such as the $200,000 Magic Millions 2YO Clockwise Classic, $100,000 Magic Millions 3YO Classic and the $100,000 Thomas Jewellers VOBIS Gold Bracelet, the quality of racing is truly outstanding.
If you are interested in the fashions make sure that you register for Myer Fashions on the Field. This event is always a highlite of the day.
The range of on-course dining options is exceptional and whether you are celebrating with friends and family, hosting a corporate event or simply enjoying a spectacular day of racing, the Sportsbet.com.au Ballarat Cup has something for everyone's tastes.
Event Dates
2016
      19th Nov
240 Kennedys Road
Miners Rest, VIC, 3352
Located 3.1K from Waubra Junction
Old Trades Exhibition
Ballarat Old Trades Exhibition will be held on the weekend of 6 and 7 August 2016, this will be an annual event.
The event will be held at Ballarat Exhibition Centre. Ballarat this is very much a family friendly opportunity to experience the skills of a bygone era.
Doors open at 10am each day. This event will showcase skills and trades from yesteryear, There will be sessions and commentary on some trades. Some of the sites will have interactive activities.
There are some 30 sites with 60 exhibitors, ranging from blacksmiths, steam appliances and display, unique timber trades and displays, leather saddlery whips and inlaying, wool and other natural fibres spinning weaving, embroidery, CWA early cooking skills, leadlight, knife making, silversmith, calligraphy, antique appraisal road show.
Tickets available can be purchased via their website or at the door Ballarat Exhibition Centre.
Event Dates
2016
      6th Aug
      7th Aug
501-503 Dowling Street,
Wendouree
Ballarat, VIC, 3350
Located 5.8K from Waubra Junction
Creswick Theatre Company's - Movie Night
The Creswick Theatre Company present a specially selected movie on the third Friday of each month at the Creswick Courthouse Theatre.
You never know what you will see with a very eclectic range of movies on offer. Join a wonderful group of like-minded movie buffs. Enjoy tea or coffee and catch up for a chat during intervals.
Join the Creswick Courthouse Theatre, Raglan Street, Creswick. Film starts at 7:30pm and there will be an interval with tea and coffee served. Donations accepted.
Please visit the Facebook page for movie details (Creswick Theatre Company).
Event Dates
2016
      17th Jun
      15th Jul
Raglan Street
Creswick, VIC, 3363
Located 6.6K from Waubra Junction
Alice in Wonderland
A pantomime for Children these School holidays, laugh along with your children as they follow Alice on her adventure into Wonderland.
Written by Amanda Stone Productions who has also designed our posters and Directed by Carol B Cole.
Meet all your favourite characters, including the wicked Queen; the mysterious White Rabbit, a curious cat, a cryptic caterpillar and an extra special Mad Hatter. This fantastic tale includes an unusual game of croquet, a collection of favourite Childrens story books and just who stole the Queen's tray of jam tarts? Something sinister is lurking in Wonderland, will our beautiful Alice find her way home?
Audience participation is encouraged, in fact the Queen demands it!
Event Dates
2016
      5th Jul
      6th Jul
      7th Jul
      8th Jul
      9th Jul
4A Raglan Street,
Raglan Street,
PO Box 188
Creswick, VIC, 3363
Located 6.6K from Waubra Junction
Art and Flowers
Come and visit this small, but enthusiastic group of flower minded members who create floral displays.
This year's event will incorporate an artist and a potter. The flower creations will interrupt some of their designs along with many other creations by the group's members.
Event Dates
2016
      23rd Sep
      24th Sep
      25th Sep
Gillies Street North,
Gillies St North
Wendouree, VIC, 3355
Located 6.7K from Waubra Junction