Piggoreet: Where To Go / Sightseeing
Enfield State Park
Now a haven for wildlife, Enfield State parks was once dominated by tents and diggers from around the world during Victoria's gold rush.
Visit the park in spring and be rewarded by colourful and unusual wildflowers.
Picnics
Picnic facilities are available at the Surface Point picnic area and at Enfield picnic area. Remote Long Gully, which can be reached by vehicle or on foot from Surface Point, also has a picnic ground. You should bring your own firewood, as it is not always available locally.
Walking
The park features many walking tracks of various lengths and terrain. A circuit walking track with side tracks to Enfield and Bald Hills provides long distance walking while shorter walks are available around Surface Point and Long Gully.
Horse riding
Horses can be ridden on formed vehicle tracks open for public use but must not be taken on walking tracks.
Camping
Facilities are provided at Surface Point, and while bush camping is permitted, remember fires can only be lit in fireplaces provided. Campers are not required to book sites or pay fees for camping in Enfield State Park.
Mountain bike riding
An increasingly popular activity, many opportunities exist for bike riders to experience the park. Bicycles are not permitted on walking tracks, but tracks are available for use.
Before you go
Conditions can change in parks for many reasons. For the latest information on changes to local conditions, please visit the relevant park page on the Parks Victoria website.
Be bushfire ready in the great outdoors. Refer to the Bushfire Safety section on the Parks Victoria website for tips on how to stay safe.
Ballarat - Colac Rd
Enfield, VIC, 3352
Located 11.5K from Piggoreet
Ballarat Bird World
At Ballarat Bird World, there are over two hundred Australian and foreign birds to see. It is a rare chance for Australian and overseas visitors to see the colours of Australian bird life.
Some of the birds on display are rarely seen in the wild, including many cockatoos like the Gang-Gang, Major Mitchell and Red, White and Yellow Tailed black cockatoos.
Take a walk along the raised walkway to the free flight aviary or sit with the native birds on the outdoor deck area.
408 Eddy Avenue
Mount Helen, VIC, 3350
Located 22.8K from Piggoreet
Ballarat and District Trotting Club
The Ballarat and District Trotting Club offers its members a range of exclusive membership benefits and privileges. For Harness Racing enthusiasts, please see the website for more information.
Experience the charm of Bray Raceway, Ballarat. Bray Raceway is widely recognised as the premier country venue in Victoria due to its outstanding 1000 metre racetrack and excellent on-course facilities.
On race days, you can enjoy a meal from the bistro or dine in the luxurious Terrace Restaurant that overlooks the home straight of the track.
Entertaining for social events is the Club's specialty, with a large function room available that can hold up to 600 guests. The Flying Horse has been a welcome addition to Bray Raceway offering modern facilities, which includes a 140 seat bistro and Club TAB.
Crn Bell & Sutton St
Redan, VIC, 3350
Located 24.3K from Piggoreet
Ballarat Golf Club
The Ballarat Golf Club has a long and proud history spanning back to 1895 as Australia's oldest continually played golf course. The championship course has been redesigned by Peter Thomson and Ross Perret and provides an outstanding experience for golfers of all levels.
The course has ranked amongst the top 100 public access courses in Australia by Golf Australia magazine in 2011, 2013 and 2015 and achieved rankings in Aus Golf's Top 100 Best Conditions and Course lists for the past three years. The course is fast becoming known as one of the best courses in Regional Victoria.
The club house is home to award winning Greenside bistro and bar, a fully stocked pro shop and modern conference and function facilities. Guests are always welcome and we offer fabulous play and stay packages for visitors.
1800 Sturt Street
Alfredton, VIC, 3350
Located 24.4K from Piggoreet
Australian Ex-Prisoners of War Memorial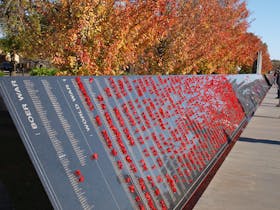 'They shall grow not old, as we that are left grow old: age shall not weary them, nor the years condemn at the going down of the sun and in the morning we will remember them.'
With these few words from the poem, 'For the Fallen', by the English poet and writer Laurence Binyon, you are welcomed to the Australian Ex-Prisoners of War Memorial. This unique memorial was opened on 6 February, 2004, to recognise and remember those Australians who became Prisoners of War during the wars of the twentieth century.
The Memorial symbolises that all Australian prisoners embarked to serve away from their homeland and acknowledges the hardship, deprivation, brutality, starvation and disease endured by prisoners of war during their capture and the scars many continued to endure upon their repatriation to Australia.
In these magnificent botanical gardens, the Memorial is a place of quiet reflection and a place to remember loved ones and to mourn those 8,600 prisoners of war that died in captivity and remain buried on foreign shores.
Corner Wendouree Parade and Carlton Street
Lake Wendouree, VIC, 3350
Located 25.0K from Piggoreet
Ballarat Tramway Museum
Enjoy Ballarat's Living History by travelling by tram with the Ballarat Tramway Museum.
History lives in Ballarat and in Wendouree Parade. Take a ride in one of the 100 year old trams which provided Ballarat's main form of public transport until 1971. The vintage tram ride covers almost one and a half kilometres of original line through the beautiful Botanical Gardens situated by the western side of the tranquil Lake Wendouree. The journey takes about 20 minutes.
The Ballarat Vintage Tramway is operated by the Ballarat Tramway Museum Inc., formed to keep alive a tramway experience that has otherwise disappeared from the streets of Ballarat.
The Museum is one of a few purely volunteer groups in the world operating tramcars on a public road and over a section of original track.
At the depot there is a museum where the story of the Ballarat trams and its people is told through photographs, historic films and tramway memorabilia. The tramcar fleet and workshops area can also be inspected. Guided tours can be arranged. Souvenir items may be purchased.
The tramcar collection includes Ballarat Horse Tram No. 1, dating from 1887 and two trams, under restoration, from the original Electric Supply Company of Victoria fleet. The running fleet consists of nine tramcars which initially ran in Melbourne and arrived in Ballarat between 1930 and 1951, and four acquired directly from Melbourne by the Museum.
Wendouree Parade
Lake Wendouree, VIC, 3350
Located 25.1K from Piggoreet
Piggoreet: Events
IRONMAN 70.3 Ballarat
IRONMAN 70.3 Ballarat offers athletes a chance to create their own legacy in Victoria's thriving event city.
Athletes will commemorate the fallen heroes of the past as they pass the iconic War Memorials throughout the 1.9 kilometre swim, 90 kilometre cycle, 21.1 kilometre run course.
The 1.9 kilometre swimming leg takes in the 1956 Olympic rowing course of Lake Wendouree, which this year will also host the World Masters Rowing Regatta in October. The two lap, 90 kilometre bike course is steeped in history, encompassing the majestic Avenue of Honour and Arch of Victory. The final leg of IRONMAN 70.3 Ballarat is a two lap, 21 kilometre run taking in the Steve Moneghetti Track, named after Ballarat's famous marathon Olympian.
This is an event to lock into the race calendar! Competitors have a chance to win one of 25 age group qualifying spots for the IRONMAN 70.3 World Championship to be held in Austria during August 2015.
IRONMAN 70.3 Ballarat has the potential to be one of the best events in Australia, with an exciting new course, great destination, close proximity to Melbourne and a unique grassroots flavour.
With an exciting new course, great destination, close proximity to Melbourne and a unique grassroots flavour, IRONMAN 70.3 Ballarat is going to be an amazing event not to be missed.
Event Dates
2016
      11th Dec
Avenue of Honour
Ballarat central, VIC, 3350
Located 24.4K from Piggoreet
Skipton Market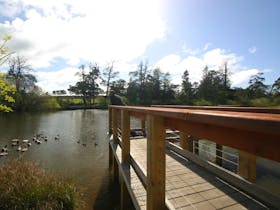 The Skipton Market is conveniently located on the Glenelg Highway between Ballarat and Hamilton. Skipton is blessed with beautiful parks and gardens and significant historic buildings.
On every second Saturday of the month, Skipton's Mechanics Hall becomes a local produce and shopping hub. Satisfy your tastebuds with homemade cakes, jams and sauces and let your green thumb guide you too your next plant discovery, or finish off that outfit with a unique piece of jewellery.
Event Dates
2016
      11th Jun
      9th Jul
      13th Aug
      10th Sep
      8th Oct
      12th Nov
      10th Dec
Anderson Street
Skipton, VIC, 3361
Located 25.0K from Piggoreet