Leichardt: Where To Go / Sightseeing
The Great Stupa of Universal Compassion
The Great Stupa of Universal Compassion Exhibition Centre has a vast collection of sacred Buddhist relics on display that have been offered from many Buddhist traditions including Burmese, Chinese, Mongolian, Thai, Tibetan and Vietnamese.
The Great Stupa is being built near Bendigo and when complete will be 50 metres square at its base and nearly 50 metres high. This will make it the largest Stupa in the Western World. The architecture, engineering and construction of the Great Stupa are based on the requirement for the Great Stupa to last for 1,000 years.
The Great Stupa structure is now well over half completed and already a popular attraction for people of all traditions.
The Jade Buddha for Universal Peace is the largest Buddha carved from gemstone quality jade in the world. The Jade Buddha is over two and a half metres high and sits on an alabaster throne of one and a half metres high.
The Jade Buddha is on tour throughout major cities in the world before being set up at The Great Stupa in Bendigo. Currently nearly seven million people from the US, Canada, Vietnam, Australia, Europe, Thailand, Singapore, Malaysia, Taiwan, Sri Lanka, Japan and India have attended Jade Buddha world tour.
Significance of The Great Stupa is that culturally, it is the largest Buddhist Stupa in the West and largest Jade Buddha in the world. Archaeologically it is based on Borobudur, Indonesia, a ninth Century UNESCO listed world heritage site and 15th Century, Gyantse Stupa, considered a 'chief wonder' of the Tibetan Buddhist world. And iconically it is a major domestic and international tourist attraction symbolising Australia's multicultural heritage.
25 Sandhurst Town Road
Myers Flat, VIC, 3556
Located 10.4K from Leichardt
Greater Bendigo National Park
This park protects some of the highest quality Box-Ironbark forest in north-central Victoria, along with mallee and grassy woodlands.
This is an ideal spot for nature study, birdwatching, bushwalking, picnics, horse riding and camping. The best time to visit is between August and October when colourful wildflowers are abundant.
The 60 kilometre Bendigo Bushland Trail goes through part of the park, and the Great Dividing Trail begins here, linking Bendigo, Castlemaine and Ballarat.
Things to do
- Recreational fossicking is allowed in some areas. Fossickers must hold a current Miners Right.
- The park offers a range of opportunities for walking and mountain biking.
- Scenic driving, cycling and walking - Most roads in the park are unsealed and suitable for car touring and cycling.
Before you go
Conditions can change in parks for many reasons. For the latest information on changes to local conditions, please visit the relevant park page on the Parks Victoria website.
Be bushfire ready in the great outdoors. Refer to the Bushfire Safety section on the Parks Victoria website for tips on how to stay safe.
Whipstick Rd
Eaglehawk, VIC, 3556
Located 15.6K from Leichardt
Bendigo Joss House Temple
At the Bendigo Joss House Temple you can discover more about the Chinese migrants who came to Bendigo in search of gold so long ago.
The Bendigo Joss House Temple, a Chinese place of worship, was constructed in the late 1860s. Standing for over a century, the Bendigo Joss House Temple is one of the few remaining buildings of its type in Australia. It comprises a Caretaker's Residence, Temple and Ancestral Hall.
The main temple is dedicated to Guan-Di, the god of war and prosperity. The Chinese saw Guan-Di as a wise judge, guide, protector and provider of wealth and prosperity.
Constructed with locally hand-made bricks and painted red, symbolising the traditional Chinese colour denoting strength and vitality, the Bendigo Joss House Temple is an important part of Bendigo's cultural history.
The Bendigo Joss House Temple is located at the Northern terminus of Bendigo's iconic Vintage Talking Tram Tour.
Finn Street,
Emu Point
Bendigo, VIC, 3550
Located 18.7K from Leichardt
Central Deborah Gold Mine
At Central Deborah Gold Mine you have the unique opportunity to descend underground and explore a real gold mine that operated during the harsh gold rush era.
The passion, enthusiasm and knowledge of the tour guides is contagious and you can't help but become enthralled by the beauty and lure of gold as you are guided through the honeycomb of hidden underground tunnels where 929 kilograms of gold was unearthed. This would be worth about $48 million in today's prices.
With only the light on your cap to light the way, the silence of being far below the hustle and bustle of the city and the cool underground temperature helps you imagine what conditions as a miner were really like during the harsh gold rush era.
Three different underground experiences are available the Mine Experience tour, Underground Adventure tour and Nine Levels of Darkness.
The Mine Experience tour is 75 minutes in duration and 61 metres underground. Suitable for children three years and over.
The Underground Adventure tour is two and a half hours in duration and 85 metres underground. Lunch is included. This tour is suitable for children eight years and over.
Nine Levels of Darkness (Australia's deepest underground mine tour) is three and a half hours in duration and 228 metres underground. Lunch is included. This tour is suitable for children 14 years and over.
Bookings are essential, please contact Central Deborah Gold Mine for further information.
Central Deborah Gold Mine was inducted into the Victorian Tourism Awards Hall of Fame after being awarded Victoria's Heritage and Cultural Tourism Attraction of the Year in 2011, 2012 and 2013.
76 Violet Street
Bendigo, VIC, 3550
Located 19.1K from Leichardt
La Trobe University Visual Arts Centre
The La Trobe University Visual Arts Centre is a multipurpose contemporary visual arts facility. Located in the heart of Bendigo's arts precinct, it features two galleries, two sculpture courtyards, an auditorium, a meeting room and an artist in residence apartment and studio.
In addition to an annual exhibition program that seeks to present cutting edge contemporary art, the centre aims to engage with the community through a public lecture program, artist floor-talks and residencies featuring local, national and international artists. The exhibition program includes the Facade Project, a bi-annual public art commission which transforms the facade of the building.
The Visual Arts Centre has a 90 seat tiered auditorium equipped with a laptop computer, data projector, an audio system and internet access. The auditorium can be hired for seminars and lectures and the foyer is available for stand-up receptions or can be used in conjunction with the auditorium; the foyer area opens directly onto the adjacent courtyard, which is a wonderful space for guests to linger in the warmer months. Also available for hire is a meeting room which accommodates up to 12 people and is equipped with internet facilities and a large LCD flat screen for use with a laptop. To find out more on hiring these facilities, please contact the Visual Arts Centre.
121 View Street
Bendigo, VIC, 3550
Located 19.3K from Leichardt
View Street Bazaar
View Street Bazaar offers an excitingly different shopping experience with curios from all corners of the globe jostling for space amongst contemporary jewellery, modern d?cor and maritime objects.
The collection includes an eclectic mix of antique, art deco, vintage, retro and handmade pieces all chosen because of their interesting or stylish edge.
Whether you are a visitor to Bendigo, a collector or just looking for a one-off gift for a friend or family member, the Bazaar offers you the opportunity to find something unique at a reasonable price.
Day trip visitors to Bendigo can enjoy the architectural history, beautiful gardens, food and wine and visit the shops of View St all within 500 metres of the city centre.

89-91 View Street
Bendigo, VIC, 3550
Located 19.3K from Leichardt
Capital Venues and Events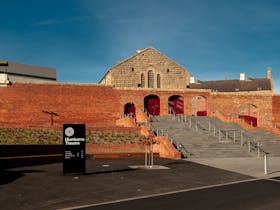 Bendigo is the home of three of the most captivating and unique theatres.
Take Centre Stage in Bendigo at Ulumbarra Theatre, The Capital and the Engine Room, located in the heart of Bendigo, presenting year round programs filled with theatre, comedy, music, circus, drama, dance and entertainment for all ages. Tickets for all performances are available from the box office via telephone or online.
The new Ulumbarra Theatre is captured inside the walls of the historical Sandhurst Gaol, The Capital has risen from a history of change beginning its life as a temple of the Masonic Lodge and the Engine Room lives inside the historic Old Fire Station.
All of these state-of-the art venues have been transformed to live and breath entertainment of all kinds. You will be impressed by the grandeur of The Capital, the sophistication of Ulumbarra Theatre and the quirky and fun feel of the Engine Room.
Tours of Ulumbarra Theatre are available through the Visitor Information Centre.
50 View Street
Bendigo, VIC, 3550
Located 19.3K from Leichardt
Leichardt: Events
Vegecareian Festival
Vegecareian Festival is based on the theme 'Love food, Love animals, Love life', encouraging people to care for their health and care for animals through an increase in a vegetarian diet.
Various activities and stalls include cooking demonstrations, veggie gardening workshops, vegetarian and vegan food stalls, Australia's best veggie burger competition, pet care information, animal blessings, yoga sessions, free face painting and live entertainment.
Pets welcome, all the food and produce on sale at the event is vegetarian and animal friendly.
Event Dates
2016
      29th Oct
25 Sandhurst Town Road
Myers Flat, VIC, 3556
Located 10.4K from Leichardt
Bendigo CraftAlive
Bendigo CraftAlive is a celebration of craft of all ranges and craft for all ages.
Herld at the Prince of Wales Showgrounds, the show dedicated to all crafts - patchwork, stamping, scrap booking, quilting, jewellery, needlework, beading, homewares, and more!
CraftAlive brings together both talented interstate and local exhibitors, focusing on creative hand finished products, DIY products, craft supplies, homewares and creative workshops to inspire young and old.
The event features workshops, master classes , make and takes, demonstrations and door prizes.
Event Dates
2016
      17th Jun
      18th Jun
      19th Jun
Holmes Road
Bendigo, VIC, 3550
Located 18.1K from Leichardt
Bendigo Art Gallery and Twentieth Century Fox present Marilyn Monroe
Bendigo Art Gallery and Twentieth Century Fox present Marilyn Monroe.
Marilyn Monroe remains one of the most celebrated and enigmatic film stars in history, she transformed herself from ordinary girl next door, Norma Jeane Baker into a glamorous and universally-recognised screen goddess. This comprehensive exhibition brings together authentic artefacts, clothing and other objects belonging to Marilyn. More than 20 original film costumes from some of Marilyn's greatest films such as Gentlemen Prefer Blondes, How to Marry a Millionaire and Love Nest feature alongside numerous dresses and accessories from Marilyn's personal wardrobe.
The ground-breaking collaboration with Twentieth Century Fox will allow unprecedented access to the 12 films Marilyn completed with the studio, including glamorous studio portraits, wardrobe test photographs, lobby cards and film posters. Curated by Bendigo Art Gallery, the costumes, personal clothing and artefacts have been drawn from private collections around the world and have never been seen before in Australia.
To complement the exhibition, Bendigo Art Gallery has secured Seward Johnson's iconic eight metre high sculpture of Marilyn Monroe, Forever Marilyn. This sculpture has been seen in Chicago and Palm Springs, USA and makes its international debut in Bendigo.
Tickets now on sale. Make sure you explore Bendigo while you are here.
Event Dates
2016
      1st Jun
      2nd Jun
      3rd Jun
      4th Jun
      5th Jun
      6th Jun
      7th Jun
      8th Jun
      9th Jun
      10th Jun
      11th Jun
      12th Jun
      13th Jun
      14th Jun
      15th Jun
      16th Jun
      17th Jun
      18th Jun
      19th Jun
      20th Jun
      21st Jun
      22nd Jun
      23rd Jun
      24th Jun
      25th Jun
      26th Jun
      27th Jun
      28th Jun
      29th Jun
      30th Jun
      1st Jul
      2nd Jul
      3rd Jul
      4th Jul
      5th Jul
      6th Jul
      7th Jul
      8th Jul
      9th Jul
      10th Jul
42 View Street
Bendigo, VIC, 3550
Located 19.4K from Leichardt