Creswick
Creswick is a historic gold rush town set amid tall eucalyptus and pine forests just north of Ballarat in Victoria's Goldfields region.

Creswick's wide main street is dotted with elegant and imposing gold rush-era buildings including the old Masonic Lodge, State Savings Bank (now an antique and gift shop), Creswick Library, Post Office and the Creswick Historical Museum.

Noted artist Norman Lindsay was born in Creswick. You can see a permanent exhibition of his paintings at the Creswick Historical Museum. The museum also displays paintings from the Lindsay family and historic artworks relating to Creswick's past. Set sail on Salt Junk Sarah boat at the Magic Pudding Playground, based around the characters and events of Lindsay's The Magic Pudding book.

Get outdoors and tour the Creswick Regional Park, which includes a 15-hectare koala park, trails through natural bushland, camp sites and picnic facilities. Follow the track around the shore of scenic St George Lake, home to waterbirds and the elusive platypus. Or, get yourself lost in the Tangled Maze, a garden maze grown from thousands of climbing plants. Play a round of golf at the Robert Allenby designed course at the Novotel Forest Resort.

Drop in a line at the Tuki Trout farm and have your catch cooked and served to you at the1850s sheep station turned country retreat.

Take a short drive from Creswick to the mineral springs of Daylesford, the wineries of the Pyrenees, and the historic town of Clunes.

Creswick is 129 kilometres north-west of Melbourne or about 90 minutes by car on the Midland Highway.
Creswick: Where To Go / Sightseeing
Creswick Museum
Creswick Museum is an accredited museum and is housed in the former Municipal Offices of the Shire of Creswick, the Town Hall complex. The Research Centre is housed in the old Infant Welfare Centre. The Museum in 2014 was awarded Volunteer Museum of the year for it's Spirit of China in Creswick Exhibition.
The Town Hall was built in 1876, a magnificent two storey National Trust classified building, with a tower and clock. The interior of the building is notable for the magnificent classic winding staircase of local Basalt. From the balcony on the second floor you can look down onto the Exhibition Gallery.
The nucleus of the collection was provided by the late E.J. Semmens and have been fortunate to receive several bequests. The collection has been expanded with works of the artistic Lindsay family, especially by Lionel and Daryl. The Lindsays spent their childhood in Creswick. Paintings by Moyle and Tibbitts illustrate Creswick during the goldrush era. Victor Litherland bequeathed to the people of Creswick the paintings in his studio. Paintings by Bernaldo and Longstaff are also featured.
Creswick was the place where the New Australasian Gold Mining Disaster happened in 1882 with the loss of 22 miners. Of the 27 miners who were trapped in the mine on the 12th December 1882 only five came out alive. The Museum has a display telling the story. Also on display artefacts from the mining era, including the lunch pail on which one of the deceased miners wrote his farewell message. Notable other people in the region were John Curtin, Captain Hepburn, Sir Alexander Peacock and William Spence.
The Research Centre is a Place of Deposit, Public Records Office. Amongst the collection is Creswick Advertisers 1859 to 1974 and maps of the district.
Town Hall Building,
70 - 72 Albert Street
Creswick, VIC, 3363
Located 0.1K from Creswick
Creswick Courthouse Theatre
Creswick Theatre Company prides itself on providing audiences with quality and value-for-money entertainment. They have provided opportunities for many actors and off-stage personnel, many of whom have moved on to bigger and better things.
Anyone with an interest in theatre will be given an opportunity to become involved, regardless of experience. Assistance with set building, lighting, sound, costumes or other front of house or back stage roles are as important to Creswick Theatre Company as their performers.
Creswick Theatre Company have introduced a monthly film night which is a nice way to catch up with other members and local film buffs.
Raglan Street
Creswick, VIC, 3363
Located 0.1K from Creswick
Creswick Regional Park
Centrally located between Ballarat and Daylesford, this park is home to a variety of native wildlife and colourful spring wildflowers.
Explore the ancient hills and discover the relics of the gold mining era on a bushwalk or mountain bike ride - or simply relax and enjoy the peaceful surroundings with a picnic by tranquil St Georges Lake.
Before you go
Conditions can change in parks for many reasons. For the latest information on changes to local conditions, please visit the relevant park page on the Parks Victoria website.
Be bushfire ready in the great outdoors. Refer to the Bushfire Safety section on the Parks Victoria website for tips on how to stay safe.
Midland Hwy
Creswick, VIC, 3363
Located 0.8K from Creswick
The Tangled Maze and Mistydowns Nursery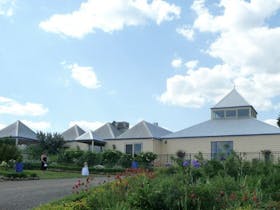 Have a great family fun day at the Tangled Maze and Mistydowns Nursery - a large and unusual maze just bursting with flowers.
Mystery trails, puzzles and plenty of space for kids to burn up that unspent energy. Try a challenging game of mini golf or enjoy a leisurely game of bocce, giant chess, quoits or naughts and crosses to keep those busy minds occupied.
Rain hail or shine the whole family can have fun in the indoor activity centre on the synthetic ice rink or get the adrenaline going with a game of laser tag.
Relax and take in the fabulous views or enjoy the tasty meals in our tempting cafe. Browse in Mistydowns Nursery, well stocked with heritage roses, peonies and unusual perennials.
Bookings made by any groups will enjoy hours of pleasure at special rates. Christmas break-ups and birthday parties can enjoy what is on offer with a difference. Seating available for up to 120 people.
Tangles function room with its unique French Baroque decor is an ideal venue for weddings, conferences, parties or special events. Seating up to 120 guests with views to die for, it is fully licensed and completely self contained. The glass atrium entry is ideal for pre dinner drinks or small functions and overlooks beautiful wrought iron balustrade landing.
Getting lost in the maze is half the fun at The Tangled Maze, beautiful gardens, fabulous views, delicious food and coffee, a delightful place for all ages to relax and enjoy a great day out.
Weddings, corporate groups and conferences catered for both in their function room and team building activities outdoors.
Visit the Tangled Maze next time you are in the Ballarat region. There is something for everyone to enjoy because getting lost is only half the fun.

2301 Midland Highway
Springmount, VIC, 3364
Located 4.4K from Creswick
Creswick: Events
Alice in Wonderland
A pantomime for Children these School holidays, laugh along with your children as they follow Alice on her adventure into Wonderland.
Written by Amanda Stone Productions who has also designed our posters and Directed by Carol B Cole.
Meet all your favourite characters, including the wicked Queen; the mysterious White Rabbit, a curious cat, a cryptic caterpillar and an extra special Mad Hatter. This fantastic tale includes an unusual game of croquet, a collection of favourite Childrens story books and just who stole the Queen's tray of jam tarts? Something sinister is lurking in Wonderland, will our beautiful Alice find her way home?
Audience participation is encouraged, in fact the Queen demands it!
Event Dates
2016
      5th Jul
      6th Jul
      7th Jul
      8th Jul
      9th Jul
4A Raglan Street,
Raglan Street,
PO Box 188
Creswick, VIC, 3363
Located 0.1K from Creswick
Creswick Theatre Company's - Movie Night
The Creswick Theatre Company present a specially selected movie on the third Friday of each month at the Creswick Courthouse Theatre.
You never know what you will see with a very eclectic range of movies on offer. Join a wonderful group of like-minded movie buffs. Enjoy tea or coffee and catch up for a chat during intervals.
Join the Creswick Courthouse Theatre, Raglan Street, Creswick. Film starts at 7:30pm and there will be an interval with tea and coffee served. Donations accepted.
Please visit the Facebook page for movie details (Creswick Theatre Company).
Event Dates
2016
      17th Jun
      15th Jul
Raglan Street
Creswick, VIC, 3363
Located 0.1K from Creswick
Creswick Market
The Creswick Market is held the third Saturday of every month. Bring the kids and your four-footed friends, all are welcome.
Located in the picturesque and historic township of Creswick, just 20 minutes to either Ballarat or Daylesford the Creswick Market a great day out for the whole family.
Free live music and over 90 specialist boutique sites, offering a variety of unique handmade goods ranging from arts and crafts to freshly made delicacies, something for everyone. Talk directly to producers and designers, learn about the ingredients and processes that brought the item to you.
The market features: gourmet take away food and great coffee; live music; kids entertainment and playground; beautiful gardens to relax in; historic township to explore; hand made arts, crafts, jewellery, clothes, home grown fruit, vegetables, plants and other produce.
Creswick Market is a much-loved monthly event, with the true relaxed feel of a regional craft market. A must see for all residents and visitors of the Goldfield region.
Event Dates
2016
      18th Jun
      16th Jul
      20th Aug
      17th Sep
      15th Oct
      19th Nov
      17th Dec
19-21 Victoria Street
Creswick, VIC, 3363
Located 0.4K from Creswick
Creswick Annual Garden Lovers Weekend
Creswick Garden Lovers Weekend is a garden lovers delight in the Victorian Central Highlands.
Featuring viewings of seven private gardens, commercial gardens, the annual garden club flower show numerous workshops and garden-related stalls.
The private gardens include four suburban gardens in the town and three set on rural properties. All have varying aspects of beauty and creativity - hidden gems often not previously seen by the general public but guaranteed to impress.
The commercial gardens include viewing of the John Curtin Hostel, a self-guided walk in the arboretum of the University of Melbourne's Creswick campus, Lambley Nursery in Ascot, Mistydowns and Tangled Maze at Springmount and Overwrought sculpture garden at Blampied.
Creswick Garden Club will be hosting their annual garden show in the Creswick Town hall.
Workshops program will be available at a later date.
Further information and ticket purchases on the days from the Creswick Neighbourhood Centre and also soon to be available on-line.
Event Dates
2016
      5th Nov
      6th Nov
21 Victoria Street
Creswick, VIC, 3363
Located 0.4K from Creswick
A Taste of Truffles
Join Black Cat Truffles throughout June and July for A Taste of Truffles - an invitation to find out more about this earthy, aromatic delicacy.
Talk to the truffle growers, see their truffle dogs in action, harvest truffles and sample a range of truffle infused treats with tips on how to get the best from your truffle.
Truffle will be available for purchase on the day.
For more information or to make a booking, please contact Black Cat Truffles.
Event Dates
2016
      2nd Jul
      9th Jul
      16th Jul
      23rd Jul
      30th Jul
150 Howards Road,
150,
Howards
Wattle Flat, VIC, 3352
Located 6.5K from Creswick
Sportsbet.com.au Ballarat Cup
Soak up the atmosphere and excitement of the premier sporting and social event on Ballarat's calendar; the 2016 Sportsbet.com.au Ballarat Cup on Saturday, 19 November.
The Sportsbet.com.au Ballarat Cup is ideally placed at the end of the popular Spring Racing Carnival, and is a perfect opportunity for racegoers to come together and enjoy themselves in the terrific setting of Sportsbet-Ballarat.
With a total of one million dollars in prize money and a racing program featuring the $200,000 Sportsbet.com.au Ballarat Cup, plus events such as the $200,000 Magic Millions 2YO Clockwise Classic, $100,000 Magic Millions 3YO Classic and the $100,000 Thomas Jewellers VOBIS Gold Bracelet, the quality of racing is truly outstanding.
If you are interested in the fashions make sure that you register for Myer Fashions on the Field. This event is always a highlite of the day.
The range of on-course dining options is exceptional and whether you are celebrating with friends and family, hosting a corporate event or simply enjoying a spectacular day of racing, the Sportsbet.com.au Ballarat Cup has something for everyone's tastes.
Event Dates
2016
      19th Nov
240 Kennedys Road
Miners Rest, VIC, 3352
Located 8.8K from Creswick