Burrumbeet: Where To Go / Sightseeing
Ballarat Turf Club
The Ballarat Turf Club racing at Sportsbet-Ballarat, boasts one of provincial Victoria's premier racetracks, hosting an average of 30 race meetings in any race season, the most conducted on any grass circuit in regional Victoria.
The club boasts two grassed racing tracks and a Tier One training facility which accommodates over 300 horses each morning. The Ballarat Turf Club also features modern grandstand facilities and on-course member and visitor facilities, placing it at the forefront of the country racing industry.
The Ballarat Turf Club's feature event is the Sportsbet.com.au Ballarat Cup. It is the concluding feature event of the Victorian Spring Racing Carnival. The club's other feature meetings include the Petrogas Gold Nugget Race Day, Ladies Day, Total Tools Tradies Day and Porter Plant Cup Day.
240 Kennedys Road
Miners Rest, VIC, 3352
Located 13.9K from Burrumbeet
Ballarat Golf Club
The Ballarat Golf Club has a long and proud history spanning back to 1895 as Australia's oldest continually played golf course. The championship course has been redesigned by Peter Thomson and Ross Perret and provides an outstanding experience for golfers of all levels.
The course has ranked amongst the top 100 public access courses in Australia by Golf Australia magazine in 2011, 2013 and 2015 and achieved rankings in Aus Golf's Top 100 Best Conditions and Course lists for the past three years. The course is fast becoming known as one of the best courses in Regional Victoria.
The club house is home to award winning Greenside bistro and bar, a fully stocked pro shop and modern conference and function facilities. Guests are always welcome and we offer fabulous play and stay packages for visitors.
1800 Sturt Street
Alfredton, VIC, 3350
Located 15.4K from Burrumbeet
Lambley Nursery and Gardens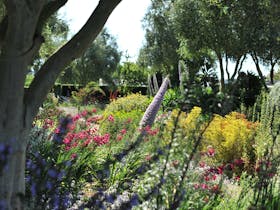 Located in Ascot and only a short drive form Ballarat, Lambley's Dry Garden featuring frost-hardy plants requiring very little watering is world renowned as a benchmark in dry climate and sustainable gardening.
The extensive Organic Vegetable Garden featuring trial beds for vegetable and flower seeds is open to the public throughout the year. Lambley's complex of gardens are an inspiration to visitors from around the world and a must-see for anyone planning a garden in the Australian climate.
David Glenn's Lambley Nursery and Garden is set around an old farmhouse in the hot dry wind swept plains of the central Victorian Goldfields. Lambley Nursery is a leading plant nursery supplying quality plants to all states except Northern Territory and Western Australia as well as on-site sales.
Visitors are most welcome to enjoy the gardens or picnic on the lawns. Groups by appointment.
Lambley Nursery and Gardens is open from 9:00am to 5:00pm everyday except Christmas Day.
395 Lesters Road
Ascot, VIC, 3364
Located 15.7K from Burrumbeet
Adam Lindsay Gordon Cottage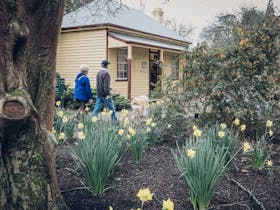 Adam Lindsay Gordon Craft Cottage features selected local craft work by members of the Crafts Council of Ballarat located in the Ballarat Botanical Gardens near Lake Wendouree.
Craft work includes jewellery, painting, photography, woodwork, cards, textiles (knitting, sewing, crochet and felting) including scarves, hats, gloves, bags and embroidery. Inside the Cottage you will discover an extensive variety of local craft work of the highest quality.
The Australian poet, Adam Lindsay Gordon lived in this cottage. It was behind Craigs Hotel on Lydiard Street and it was from here that Gordon managed the hostelry. His only daughter died while he was in Ballarat and although a daredevil on a horse and an accomplished rider he led a tragic life. His poetry with its rolling rhythm survives him.
The cottage was moved to the Botanical gardens in the '30's and since the early '90's has been the home of the Crafts Council of Ballarat.
Ballarat Botanical Gardens,
Wendouree Parade
Lake Wendouree, VIC, 3350
Located 16.7K from Burrumbeet
Ballarat Tramway Museum
Enjoy Ballarat's Living History by travelling by tram with the Ballarat Tramway Museum.
History lives in Ballarat and in Wendouree Parade. Take a ride in one of the 100 year old trams which provided Ballarat's main form of public transport until 1971. The vintage tram ride covers almost one and a half kilometres of original line through the beautiful Botanical Gardens situated by the western side of the tranquil Lake Wendouree. The journey takes about 20 minutes.
The Ballarat Vintage Tramway is operated by the Ballarat Tramway Museum Inc., formed to keep alive a tramway experience that has otherwise disappeared from the streets of Ballarat.
The Museum is one of a few purely volunteer groups in the world operating tramcars on a public road and over a section of original track.
At the depot there is a museum where the story of the Ballarat trams and its people is told through photographs, historic films and tramway memorabilia. The tramcar fleet and workshops area can also be inspected. Guided tours can be arranged. Souvenir items may be purchased.
The tramcar collection includes Ballarat Horse Tram No. 1, dating from 1887 and two trams, under restoration, from the original Electric Supply Company of Victoria fleet. The running fleet consists of nine tramcars which initially ran in Melbourne and arrived in Ballarat between 1930 and 1951, and four acquired directly from Melbourne by the Museum.
Wendouree Parade
Lake Wendouree, VIC, 3350
Located 16.9K from Burrumbeet
Australian Ex-Prisoners of War Memorial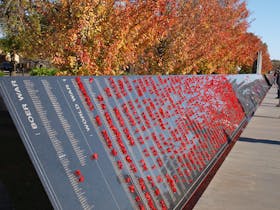 'They shall grow not old, as we that are left grow old: age shall not weary them, nor the years condemn at the going down of the sun and in the morning we will remember them.'
With these few words from the poem, 'For the Fallen', by the English poet and writer Laurence Binyon, you are welcomed to the Australian Ex-Prisoners of War Memorial. This unique memorial was opened on 6 February, 2004, to recognise and remember those Australians who became Prisoners of War during the wars of the twentieth century.
The Memorial symbolises that all Australian prisoners embarked to serve away from their homeland and acknowledges the hardship, deprivation, brutality, starvation and disease endured by prisoners of war during their capture and the scars many continued to endure upon their repatriation to Australia.
In these magnificent botanical gardens, the Memorial is a place of quiet reflection and a place to remember loved ones and to mourn those 8,600 prisoners of war that died in captivity and remain buried on foreign shores.
Corner Wendouree Parade and Carlton Street
Lake Wendouree, VIC, 3350
Located 17.1K from Burrumbeet
Ballarat Exhibition Centre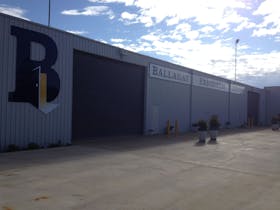 Ballarat Exhibition Centre is host to the Ballarat Antique and Vintage Fair, Mechanica Car Show, the Old Trades Exhibition and many other varying exhibitions and sporting events.
Ballarat Exhibition Centre is a clear span, undercover events and exhibition centre with a floor area in excess of 5000 square metres, a further 2,500 square metres of concrete hard stand and 2,000 square metres of lawn area at the front of the building. With the added convenience of 300 car parks adjacent to the venue and 850 car parks within 200 metres walking distance, the Centre can cater for a range of event types.
The venue is suited to hosting expos and conferences, wine and food shows, show and shines, sporting events and markets. Easy accessibility makes the venue ideal for those with disabilities. The floor is flat concrete covered with carpet tiles. High roller doors allow access for bump in and bump out. A forklift is available for the docking area.
501-503 Dowling Street
Wendouree, VIC, 3355
Located 17.3K from Burrumbeet
Burrumbeet: Events
Sportsbet.com.au Ballarat Cup
Soak up the atmosphere and excitement of the premier sporting and social event on Ballarat's calendar; the 2016 Sportsbet.com.au Ballarat Cup on Saturday, 19 November.
The Sportsbet.com.au Ballarat Cup is ideally placed at the end of the popular Spring Racing Carnival, and is a perfect opportunity for racegoers to come together and enjoy themselves in the terrific setting of Sportsbet-Ballarat.
With a total of one million dollars in prize money and a racing program featuring the $200,000 Sportsbet.com.au Ballarat Cup, plus events such as the $200,000 Magic Millions 2YO Clockwise Classic, $100,000 Magic Millions 3YO Classic and the $100,000 Thomas Jewellers VOBIS Gold Bracelet, the quality of racing is truly outstanding.
If you are interested in the fashions make sure that you register for Myer Fashions on the Field. This event is always a highlite of the day.
The range of on-course dining options is exceptional and whether you are celebrating with friends and family, hosting a corporate event or simply enjoying a spectacular day of racing, the Sportsbet.com.au Ballarat Cup has something for everyone's tastes.
Event Dates
2016
      19th Nov
240 Kennedys Road
Miners Rest, VIC, 3352
Located 13.9K from Burrumbeet
IRONMAN 70.3 Ballarat
IRONMAN 70.3 Ballarat offers athletes a chance to create their own legacy in Victoria's thriving event city.
Athletes will commemorate the fallen heroes of the past as they pass the iconic War Memorials throughout the 1.9 kilometre swim, 90 kilometre cycle, 21.1 kilometre run course.
The 1.9 kilometre swimming leg takes in the 1956 Olympic rowing course of Lake Wendouree, which this year will also host the World Masters Rowing Regatta in October. The two lap, 90 kilometre bike course is steeped in history, encompassing the majestic Avenue of Honour and Arch of Victory. The final leg of IRONMAN 70.3 Ballarat is a two lap, 21 kilometre run taking in the Steve Moneghetti Track, named after Ballarat's famous marathon Olympian.
This is an event to lock into the race calendar! Competitors have a chance to win one of 25 age group qualifying spots for the IRONMAN 70.3 World Championship to be held in Austria during August 2015.
IRONMAN 70.3 Ballarat has the potential to be one of the best events in Australia, with an exciting new course, great destination, close proximity to Melbourne and a unique grassroots flavour.
With an exciting new course, great destination, close proximity to Melbourne and a unique grassroots flavour, IRONMAN 70.3 Ballarat is going to be an amazing event not to be missed.
Event Dates
2016
      11th Dec
Avenue of Honour
Ballarat central, VIC, 3350
Located 15.9K from Burrumbeet
Art and Flowers
Come and visit this small, but enthusiastic group of flower minded members who create floral displays.
This year's event will incorporate an artist and a potter. The flower creations will interrupt some of their designs along with many other creations by the group's members.
Event Dates
2016
      23rd Sep
      24th Sep
      25th Sep
Gillies Street North,
Gillies St North
Wendouree, VIC, 3355
Located 16.1K from Burrumbeet