Bridgenorth: Where To Go / Sightseeing
Grindelwald Swiss Village (Attraction)
The Tamar Valley Resort is located in the Swiss-style village of Grindelwald, Northern Tasmania.
The village of Grindelwald was established in the 1980s as a unique residential development. All houses in Grindelwald have been built in Swiss style, with wide eaves, flowerboxes, window shutters and balconies. The settlement is fringed with glassy lakes and views of the Tamar Valley.
The Swiss-themed Tamar Valley Resort at Grindelwald includes a range of accommodation, a shopping arcade, general store, craft and gift shops, clothing store, hairdresser, day spa, golf pro shop, chocolatier, and a cafe and bakery. You can browse through the specialty boutiques in the shopping square, or enjoy a meal or snack at the lakeside Alpenrose Lakeside Bistro and lounge bar. Accommodation options include the Grand Chateau Hotel and self-contained family chalets.
You can test your skill at the18-hole, par 54 mini-golf course, or play a round on the ten-hole public golf course (par 30, 3566 metres). Activities include aqua bike hire and canoeing on the lake, and the world's longest bouncing pillow available for the children.
Grindelwald is a 15-minute drive north of Launceston (15 km) in the Tamar Valley.
7 Waldhorn Drive
Grindelwald, TAS, 7277
Located 3.8K from Bridgenorth
Tamar Ridge Wines
Tamar Ridge Wines has a cellar door, vineyard and winery located in the West Tamar Valley.
The Kayena Vineyard is the cornerstone of the Tamar Ridge wines. The vineyard is planted with a range of cool climate varieties, including Sauvignon Blanc, Pinot Gris, Riesling, Chardonnay and Pinot Noir.
At this working winery you will see state-of-the-art winemaking techniques, but with more than a few concessions to the traditional techniques that have served winemakers for centuries.
At the cellar door you can taste award-winning wines, sourced from the grapes grown at the Hazards Vineyard on the East Coast and fashioned into individual wine styles that speak of their cool climate origins.
The 55 hectare (136 acre) vineyard is located on the western banks of the Tamar River, 45 km north of Launceston.
1A Waldhorn Drive
Rosevears, TAS, 7277
Located 4.5K from Bridgenorth
Tasmania Zoo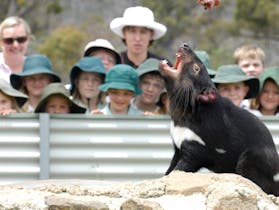 Tasmania Zoo is the state's only fully-accredited Zoo, near Launceston in Tasmania's north.
Set amongst extensive natural bushland, the zoo has Tasmania's biggest collection of animals including the world's largest private devil breeding program. You will come face to face with the world-famous Tasmanian Devils who assist research into the devil facial tumour disease. Witness these fascinating creatures live, at the devil feedings and interpretation times, daily at 10.30am, 1pm and 3.30pm.
You will also see over 80 species of birds, from fairy penguins, swift parrots to macaws. Penguin feeding daily at 10am and 4pm.
You can enjoy hand feeding the native Australian animals like wallaby's, wombats, kangaroos and the domestic animals like sheep, cattle, goats, alpacas and miniature ponies.
Tasmania Zoo also has the second largest collection of Primates in any private Australian Zoo, along with many other exotic species, watch the Meerkat feeding daily at 11.30am and 2.10pm.
This is an excellent family destination, with a variety of activities including barbecues, picnic facilities, children's play area with swings, and an onsite caf? and gift shop.
Tasmania Zoo is a 20-minute drive (18 km) from Launceston.
1166 Ecclestone Road,
1166
Riverside, TAS, 7250
Located 5.6K from Bridgenorth
Notley Fern Gorge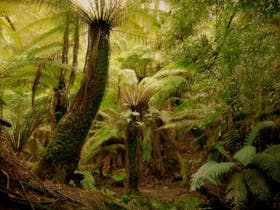 Notley Fern Gorge is a remnant patch of rainforest above the Tamar Valley, northern Tasmania. The wet sclerophyll forest area has a walking track and picnic area beneath towering trees.
The forest is dominated by eucalypts towering above the rainforest understorey. The state reserve is well known for a burnt out tree known as 'Bradey's Tree.' It is named after the 1820s bushranger whose gang is believed to have hidden in this forest. There is a 1.5 kilometre (1 mile) track weaving past glades of mosses and ferns which takes about 45-minutes to walk. The walk requires moderate fitness and crosses the creek several times with a steady climb uphill on the return.
Enjoy reading about the types of fauna and flora on information stands throughout the reserve and observe the native birdlife including pink robins and golden whistlers. Other largely nocturnal wildlife include Bennetts wallabies, Tasmanian devils and ringtail possums. Marvel at large tree ferns, hard water ferns down by the creek's edge and filmy ferns, found growing on the trunks of trees. After your forest walk, enjoy the picnic and barbecue area.
Notley Fern Gorge is half an hours' drive (24 kilometres/15 miles) north-west of Launceston.
C732
Legana, TAS, 7277
Located 5.7K from Bridgenorth
Velo Wines
Velo Wines is based at the entrance to the beautiful Tamar Valley in Northern Tasmania.
Our Cellar Door and Barrel Room Restaurant welcome visitors five days a week for lunch from Wednesday to Sunday from 1000 - 1600, we are also open Friday and Saturday evenings for dinner 1800 - late. Dining in our vineyard restaurant is very popular, we offer a full a la carte menu, fantastic vineyard platters, woodfired pizza and our famous duck and porcini mushroom pie prove irresistable matched with our wonderful boutique wines. We have an extensive range of wines available, from vintage sparkling, cult status pinot gris, rich earthy cabernet sauvignon to luscious sauterne-like late harvest Sauvignon blanc. We also produce our own cider, which is wonderfully refreshing. Our team are welcoming and knowledgeable and very proud of our Tasmanian produce. Whether you drop in for a coffee and treat, a glass of wine or an extraordinary evening dining experience we are here to showcase what Tasmania does best, hopitality and wonderful produce, an experience you wont forget.
755 West Tamar Highway
Legana, TAS, 7277
Located 6.2K from Bridgenorth
Seagrass Design
Seagrass Design art studio is situated in the beautiful Tamar Valley at 78 Rosevears Drive, Lanena. Seagrass Design specialise in high quality original contemporary art paintings, photography and mixed media artworks. Choose from our extensive range to add the finishing touches to your new home or office. Our artworks can be customised to suit your own individual colour scheme, size and style. Seagrass also offers a selection of unique homewares lines such as lino printed cushions, Tasmanian timber chopping boards, scented candles plus lots more, all of which are produced on-site.
78 Rosevears Drive
Lanena, TAS, 7275
Located 7.1K from Bridgenorth
St Matthias' Anglican Church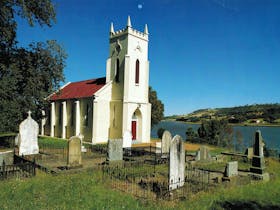 "Visitors gaze on a little village church, simple and unpretentious in design, standing on the grassy river bank, backed with fine trees and reflected in the calm water of the Tamar River" (Frank Heyward, The Examiner 1939).
St Matthias' Anglican Church, surrounded by a beautiful, peaceful 173 year old graveyard, is located in the rural village of Windermere and is a heritage-listed icon in Northern Tasmania. The church was built in 1842 fulfilling a promise by Dr Matthius Gaunt to his young wife before they left England. His wife was concerned that there may not be a church in the area where they would make their home. Dr Gaunt promised that if there was not, he would build one for her. St Matthias' is one of Australia's oldest rural churches and has been in continuous use since its foundation. A Eucharist Service is held every second and fourth Sunday at 1030.
The church has been painted and photographed by many recognised artists. This beautiful bluestone gothic chapel with its romantic history is a popular spot for weddings, baptisms and picnics. The scenic drive around Windermere Road is an easy detour from the East Tamar Highway and offers spectacular river views.
431 Windermere Road
Windermere, TAS, 7252
Located 7.4K from Bridgenorth
Exeter Golf Club Inc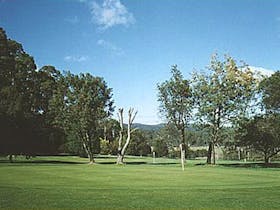 Exeter Golf Club Inc is a 9-hole golf course just outside of Launceston in Tasmania's North.
The course has 18 alternate tees (par 71) and a spacious club house with licensed bar. The fairways and greens are well maintained and in good condition year round. There is also a driving range to fine tune your swing. Saturday is competition day and all days are open to the public for a round. The course has its challenges with some testing hilly areas and visitors are always welcome.
While you are in the area, visit the neighbouring fruit orchards and take time to venture out to Beauty Point and Beaconsfield. At Beauty Point you can visit Seahorse World and Platypus House while in Beaconsfield learn of the intriguing mining history. Also not far away is the Tamar Valley Wine Route, where you can sample some of Tasmania's finest cool-climate wines. Have lunch at one of the picturesque vineyards or take a bottle of your favourite wine down to the banks of the Tamar River and enjoy a picnic. The river is home to a range of wildlife and birdlife.
Exeter is a 20-minute drive north (26 km) of Launceston.
Main Road
Exeter, TAS, 7275
Located 8.4K from Bridgenorth
Tamar Island Wetlands Reserve
The Tamar Island Wetlands is a unique urban wetlands reserve just a ten-minute drive from Launceston. A short (500 metre) walk from the interpretation centre takes you to a bird hide with seating where you can observe wetland birds on the lagoon and enjoy a restful break.
An outstanding interpretation centre offers visitors the opportunity to learn more about the value of the wetlands. The interpretation centre and the boardwalk to the island have easy wheelchair access and both have disabled toilet facilities.
The Tamar Island Wetlands Centre offers a range of activities for both adults and children. Volunteers present talks and activities on topics such as wetlands ecology, macro-invertebrates and the pest fish species Gambusia.
A Discovery Ranger program operates daily over the summer holiday period.
West Tamar Road
Riverside, TAS, 7250
Located 9.2K from Bridgenorth