Henty: Where To Go / Sightseeing
Headlie Taylor Header and Blacksmiths Shop
Henty is known as the 'Home of the Header' due to agricultural innovations that revolutionised world agriculture. In 1914, a local farmer, Mr Headlie Taylor invented the header harvester which completely revolutionised the grain industry around the world.
In 2009, an authentic header harvester and blacksmiths shop were relocated to Bicentennial Park, Olympic Highway.
Headlie Taylor Header and Blacksmiths Shop is open everyday, guided tours available by appointment.
Olympic Highway
Henty, NSW, 2658
Located 0.0K from Henty
Henty Observer Printing Museum
The Henty Observer Printing Museum is housed in the original 1934 brick building of The Observer newspaper.
Visitors can observe how the newspapers of yesteryear were printed and how much printing has changed since then.
The museum is home to a variety of Platen machines some pre 1900, one of the original Wharfedale printing machines of 1907, a large Miehle auto printer, linotype machines, newspaper folding machines, guillotine and other printing memorabilia of historical interest.
Museums are free but donations are welcome to help preserve the past.
Behind the IGA Supermarket,
9 Sladen Street
Henty, NSW, 2658
Located 0.1K from Henty
Dales Mini Museum Henty
Dales Cellar Mini Museum is a collection of trash and treasure memorabilia of the past including Henty's Manual Telephone Exchange, the first 'ambulance' a two wheeled stretcher, cash registers, jugs, irons, toasters, radios and much more.
The museum is located in the cellar beneath Dales IGA Supermarket.
Henty museums are free to see but donations are welcome to help preserve the past.
9 Sladen Street
Henty, NSW, 2658
Located 0.1K from Henty
Judys Bazaar
Judy's Bazaar is a local gift shop specialising in quality gift ware and craft supplies.
Visit the bazaar and browse through the range of patchwork fabrics, quilts, haberdashery, knitting books and yarn and scrap booking supplies. You will also find handmade jewellery, dolls and gifts, and a large range of wooden toys.
34 Railway Parade
Henty, NSW, 2658
Located 0.2K from Henty
Ed's Old Farm Machinery Museum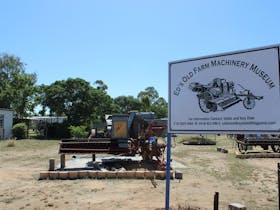 Henty is the home of agricultural innovation as the birthplace as the Headlie Taylor Header, and the perfect place to see agricultural machinery through the ages is at Ed's Old Farm Machinery Museum.
Showcasing a range of agricultural machinery from decades past, Ed's Old Farm Machinery Museum is a must see for the agricultural enthusiasts.
Open daily or with a guide by special appointment.
Railway Parade
Henty, NSW, 2658
Located 0.4K from Henty
The Henty Man
Located between the towns of Henty and Culcairn on the Olympic Highway, is the Henty Man. This man was originally shaped by an itinerant worker in the early 1930s from a tree burnt out by a swagman's fire. It became a district landmark until it was destroyed by natural elements about 20 years later.
Prior to Henty's Centenary in 1986, it was decided by local identities to restore 'The Man' for that occasion, and this was done with the help of the former Culcairn Shire Council. At the Centenary celebrations, Councillor Hugh McKay dedicated it to the men of the road, who had to walk the length and breadth of Australia during the Great Depression seeking work.
The Henty Man is now an RTA rest area with picnic tables, refuse bins and toilets.
Olympic Highway
Henty, NSW, 2658
Located 0.6K from Henty
Sergeant Smyth Memorial
Henty is known locally for its connections with the bushranger 'Mad Dan' Morgan. Two kilometres west of town on the Pleasant Hills Road is a memorial stone on the site where Morgan shot Sergeant Thomas Smyth in September 1864.
The new plaque was erected by the NSW Police Service and reads 'A memorial to Senior Sergeant Thomas Smyth, aged 29. A member of the NSW Police Force shot by bushranger Dan Morgan in the surrounding hills on 4 September 1864. Senior Sergeant Smyth received a gunshot wound to his left shoulder and convalesced at the Imperial Hotel, Albury until 29 September 1864 where he haemorrhaged as a result of the gunshot wound and died. He is buried in an unmarked grave in the Albury cemetery.'
Visitors interested in the infamous tales of 'Mad Dan' Morgan can also visit the John McLean Memorial in Culcairn and Morgan's Lookout at Walla Walla.
Pleasant Hills Road
Henty, NSW, 2658
Located 0.8K from Henty
Henty Community Club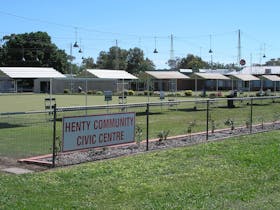 Catering to the community the Henty Community Club is a sportsman's delight. With two bowling greens and an 18 hole golf course, spend some time and play a round or two in Henty.
Why not have a meal after your game with meals available Friday, Saturday and Sunday nights. With meeting rooms and hall available for hire the Henty Community Club has everything you need all in the one place.
South Street
Henty, NSW, 2658
Located 0.9K from Henty
Henty: Events
Henty Agricultural Show
The Annual Henty Agricultural Show has been running for over a century.
This annual event held in February, is a showcase of local agricultural produce including grain, sheep, cattle, and local produce. The show provides an opportunity for young rural citizens, with junior judging and handling of cattle, as well as the chance to be crowned Miss Henty Showgirl.
With horses, cattle, food, arts and crafts there is sure to be something for all members of the family to enjoy!
Event Dates
2017
      11th Feb
Henty Pleasant Hills Road
Henty, NSW, 2658
Located 0.8K from Henty