Ettamogah: Where To Go / Sightseeing
Ettamogah Pub Albury
Stop, shake off the dust and visit the iconic Ettamogah Pub. Based upon Ken Maynard's cartoons, the original Ettamogah Pub is situated 15 kilometres north of Albury on the Hume Highway, an easy drive from the city.
Creating a unique and enjoyable environment, visitors to the pub are welcome to explore the pub and its walls of cartoon or wander through the cartoon inspired gardens, complete with a tree jail and other zany Ettamogah scenes and characters.
The venue hosts live music events along with car park markets regularly (second, fourth and fifth Sunday of the month). Housing a bar, cafe and restaurant, the pub can cater for groups of all sizes with a range of souvenirs and merchandise available.
The word "ettamogah" is Aboriginal for "place of good drink". How very appropriate!
561 Burma Road
Table Top, NSW, 2640
Located 6.5K from Ettamogah
Ettamogah: Events
Australian Polocrosse National Championships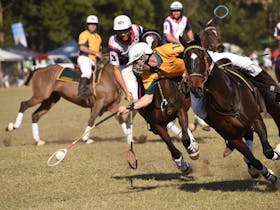 The 2016 Australian Polocrosse National Championships will be held at the Albury/Wodonga Equestrian Centre. The event itself will see 500 players, 800 horses and an anticipated crowd of 2,500 to 3,000 spectators per day.
All states and territories will be participating making this event the pinnacle of the sport. There are 10 divisions ranging from sub junior level through to masters competition. Polocrosse combines the sport of polo, the strategic and tactical aspects of netball, the rigour of rugby and AFL and the dexterity of lacrosse.
This is an action packed horse sport where the skill and determination of horse and rider make it 'the king of the one horse sports'. It will be an event not to be missed!
16 Corrys Road
Thurgoona, NSW, 2640
Located 3.6K from Ettamogah
Cinema Under the Stars - Oddball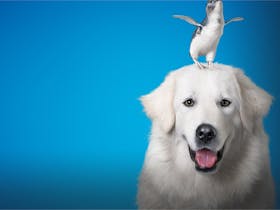 Albury's hugely popular Cinema Under the Stars series is back again with an extraordinary selection of films.
Taking it to the suburbs, the fifth and final film in the Cinema Under the Stars series, Oddball (G), will be screened within Lavington's Melrose Park.
The true story about an eccentric chicken farmer (Shane Jacobson) who, with the help of his granddaughter, trains his mischievous dog Oddball to protect a wild penguin sanctuary from fox attacks in an attempt to reunite his family and save their seaside town.
BYO beanbag or chair and picnic. Food will be available for purchase.
Corner Douglas Road and Barlow Street
Lavington, NSW, 2641
Located 4.0K from Ettamogah
The Twilight Trackside Picnic
The Albury Racing Club is excited to announce a new event to the racing season's calendar!
For a unique Race Day event, Albury's Twilight Trackside Picnic will offer racegoers a gourmet experience of food and wine all while enjoying the rocking tunes of live bands (The Kite Machine, Liv Cartledge, Benny Walker and Chris Watts) between races.
Come prepared with a large picnic rug, Aerogard and plenty of friends to share the evening with.
Regional wineries that will be supplying wines include: Sam Miranda King Valley, Buller Wines, Morris Wines, All Saints Estate, St Leonards, Brown Brothers Winery, and Campbells Wines.
Albury Racing Club,
46 Fallon Street
Albury, NSW, 2640
Located 5.2K from Ettamogah
Earth Quest: Outer Space to Inner Earth Lavington
Earth Quest is an interactive exhibition that will take visitors on an incredible voyage from the outer limits of the Milky Way galaxy, through the solar system and into the very centre of planet Earth.
Earth Quest's interactive exhibits explore themes of astronomy, geology, environmental science and biology. Why are there seasons? How did mountains form? How have animals adapted to life in different climates? How do scientists know what's at the centre of the earth when they can't dig deeper than 12 kilometres below the ground?
Suitable for those aged eight years and older.
Developed by Questacon - The National Science and Technology Centre Canberra
366 Griffith Road
Lavington, NSW, 2641
Located 5.3K from Ettamogah