Bowna: Where To Go / Sightseeing
Ettamogah Pub Albury
Stop, shake off the dust and visit the iconic Ettamogah Pub. Based upon Ken Maynard's cartoons, the original Ettamogah Pub is situated 15 kilometres north of Albury on the Hume Highway, an easy drive from the city.
Creating a unique and enjoyable environment, visitors to the pub are welcome to explore the pub and its walls of cartoon or wander through the cartoon inspired gardens, complete with a tree jail and other zany Ettamogah scenes and characters.
The venue hosts live music events along with car park markets regularly (second, fourth and fifth Sunday of the month). Housing a bar, cafe and restaurant, the pub can cater for groups of all sizes with a range of souvenirs and merchandise available.
The word "ettamogah" is Aboriginal for "place of good drink". How very appropriate!
561 Burma Road
Table Top, NSW, 2640
Located 11.0K from Bowna
Wymah Museum
Wymah was a pioneer settlement with a small thriving township in the late 19th and early 20th centuries. It featured one of the earliest ferry river crossings which conveyed both people and livestock. Nothing remains of the township except the Victoria Pub (now Fairview), opposite the original ferry crossing and the school and school house. The original pioneer families still farm the area and their histories are highlighted in the museum's many displays.
The museum offers a selection of rotating local themes and includes pioneer family history and research facilities, the history of the Wymah Ferry, Wymah School History, the rise and decline of the Wymah township, and many more.
2444 Wymah Road
Wymah, NSW, 2640
Located 14.7K from Bowna
Wymah Ferry
While you are driving along the Murray River, why not try crossing at the 'The Spirit of Wymah', a heritage listed cable ferry built in 1946.
The ferry crosses the river at Wymah in New South Wales and Granya in Victoria, and is a fun alternative which enables you to experience the Murray River. The passenger carrying ferry can take three cars, however is not suitable for caravans.
The Wymah Ferry is one of only two surviving ferries that cross the Murray River, the other being Speewa Ferry, at Swan Hill. The ferry is toll free and from September to April runs from 6am to 9pm and during May to August from 7am to 8pm. Except on the first Wednesday of every month when it is closed between 9am and 12pm.
Wymah Ferry Road
Wymah, NSW, 2640
Located 14.7K from Bowna
Wymah Organic Olives and Lambs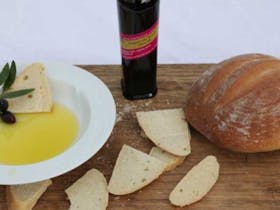 Wymah Organic Olives and Lambs are located in the granite country of Wymah Valley. Their flock of wool shedding Wiltipol sheep and 3000 olive trees are set amongst old red gums. They overlook the Murray River as it enters Lake Hume. Produce includes naturally fermented certified organic table olives, tapenades (olive pastes), extra virgin olive oil, lime and lemon fused olive oil and agrumata. They sell by the jar, the tub or the pallet.
Their lamb is also sold to a variety of markets including cafes, restaurants, at farmers markets and to the public.
2159 Wymah Road
Wymah, NSW, 2640
Located 16.7K from Bowna
Heywards Bridge Fishing
Albury Wodonga has some of the best freshwater fishing available in New South Wales. Being right in the middle of where the largest mountain range meets the biggest river, there is the perfect spot for every angler, from cold water streams to wide lakes and big valley rivers, all year round.
There are many beautiful, secluded tree-lined fishing spots all along the Murray River, as well as popular angling spots at Mungabareena and Heywoods Bridge, where the famous Murray Cod, Yellowbelly and freshwater cray are regularly taken.
For recreational fishing in the Murray River, a NSW recreational fishing licence is required. Please visit the website for further information.
Heywards Bridge,
Bonegilla Road
Lake Hume, NSW, 2640
Located 17.8K from Bowna
Bowna: Events
Border Battlefield IV
Border Battlefield is back for its fourth instalment!
Held at the Great Aussie Holiday Park, it's a great excuse to stay overnight and mingle with like-minded mud run loving obstacle racers.
The three previous mud runs have seen hundreds of participants from near and far complete a 10 kilometre mud packed course with over 25 challenging obstacles.
Register before 25 December for an early bird rate of AUD95.00 per person.
Registrations after Christmas to the day of the event are AUD110 per person.
Registration includes a free Border Battlefield T-shirt, dog tag and water or beer on completion of the course.
Follow updates for this event including start time on Facebook or via the official website.
Event Dates
2016
      27th Feb
14 Hore Road
Bowna, NSW, 2644
Located 3.9K from Bowna
Wymah Family Fun Day and Fun Run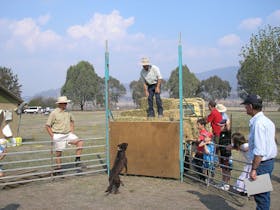 The Wymah Family Fun Day is a great day of good old fashioned fun for the whole family, all in the beautiful surroundings of the Wymah Valley.
Registration for Fun Run at 9am for a 10am start.
The day features country entertainment and prizes for all the family, novelty and athletic events for children and adults, sheep races, dog jumps and races, cow pat lotto, a wood raffle, gum boot toss, egg throwing, guessing competitions, children's activity text, lolly scramble and much more!
Delicious homemade food and beverages are available. There is an all day barbecue, coffee van and licensed bar.
Come enjoy a day full of fun with friends and family in the beautiful Wymah Valley.
Event Dates
2016
      24th Apr
Wymah Road
Wymah, NSW, 2640
Located 14.6K from Bowna
Trinity College Art Exhibition and Acquisitive Art Award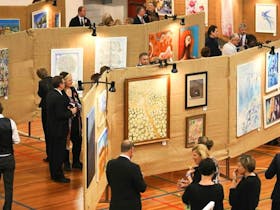 *** Latest event details are yet to be confirmed ***
The Trinity College Art Exhibition aims to celebrate and support the vibrant regional arts community. With an emphasis on selecting a variety of genres to reinforce the importance of the arts in our educational and collegial life, the Trinity College Art Exhibition will honour life and the various means of expressing our dreams, challenges and successes!
There's no doubt this exhibition will attract many of Australia's talented artists with three great categories open for entry: Acquisitive Art Award, Regional Artist Award and Small Space Award. To be part of this exhibition and for the chance to take home up to AUD2000 in prize money, artists must enter their works by 14 August 2015.
Gala Opening Night and Prize Announcement will be on Friday night, while the exhibition will be open Saturday and Sunday.
Event Dates
2015
      4th Sep
      5th Sep
      6th Sep
2016
      4th Sep
      5th Sep
      6th Sep
421 Elizibeth Mitchell Drive
Albury, NSW, 2640
Located 15.1K from Bowna
Biggest Morning Tea: Thurgoona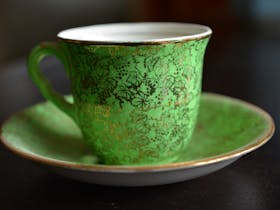 All are welcome to attend the Biggest Morning Tea at Thurgoona. Bookings can be made on the phone number provided.T he event will also include interesting speakers. This includes presenters from Salts of the Earth therapy and The Arbonne Difference. Proceeds from the event will go to the Cancer Council fundraising campaign for medical research. Bookings can be made by phone. The Thurgoona Community Centre is close to the Thurgoona Plaza. It is on the corner of Kosciuszko Road and Table Top Road in Thurgoona.
Event Dates
2016
      26th May
10 Kosciuszko Road
Thurgoona, NSW, 2640
Located 15.7K from Bowna
Australian Polocrosse National Championships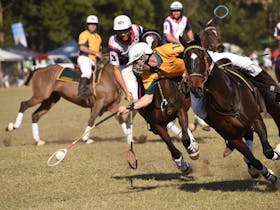 The 2016 Australian Polocrosse National Championships will be held at the Albury/Wodonga Equestrian Centre. The event itself will see 500 players, 800 horses and an anticipated crowd of 2,500 to 3,000 spectators per day.
All states and territories will be participating making this event the pinnacle of the sport. There are 10 divisions ranging from sub junior level through to masters competition. Polocrosse combines the sport of polo, the strategic and tactical aspects of netball, the rigour of rugby and AFL and the dexterity of lacrosse.
This is an action packed horse sport where the skill and determination of horse and rider make it 'the king of the one horse sports'. It will be an event not to be missed!
Event Dates
2016
      18th Apr
      19th Apr
      20th Apr
      21st Apr
      22nd Apr
      23rd Apr
      24th Apr
16 Corrys Road
Thurgoona, NSW, 2640
Located 17.4K from Bowna