Echuca
Located on the Murray River, Echuca is a heritage river town, home to a fleet of paddle steamers and a great base for waterskiing, swimming, cruising or taking a houseboat holiday.

From the Aboriginal word meaning 'meeting of the water', Echuca was once the state's most substantial inland river port. Paddle steamers traded along the Murray and Darling Rivers almost as far as the Queensland border and brought their cargoes of wool to Echuca for transport to the Port of Melbourne.

Echuca's rich port history continues to draw visitors. The restoration of many original buildings rejuvenated the streetscape and the wharf now offers visitors a fascinating opportunity to experience a working steam port. You can take a relaxing hour-long cruise aboard one of the authentic paddle steamers or a leisurely one hour stroll on a self guided tour of the Echuca Wharf.

The world's biggest fleet of operating paddle steamers is based at Echuca and each has its own history and character. Paddle steamers again travel the local waters, these days for recreation and nostalgia . Learn about pioneering days from the captain's commentary and enjoy refreshments as you cruise in comfort. Alternatively, hire a houseboat and cruise down the Murray River at your own pace.

Echuca is a great family holiday destination. Its location right on the Murray River, its warm Mediterranean climate and the myriad of water based activities, including waterskiing, swimming and boating, make for endless family fun. Make time for a meal at Oscar W's Wharfside restaurant for fine Aussie dining.

Echuca is just under three hours from Melbourne on the Hume Freeway/Northern Highway.
Echuca: Where To Go / Sightseeing
Billabong Ranch
Billabong Ranch Fun Park provides plenty of entertaining activities for those looking for a range of activities on the one site. The sensor-activated 18 hole indoor Mini Golf Course is the only of its kind in Australia, entertaining with realistic and amusing noises.
The Bouldering Wall offers fun and fitness while challenging you and your mates to traverse the 30 metre Rock Climbing Wall, apparently the longest in Australia. Three different levels cater for beginners to advanced climbers.
An Indoor Archery Range is a great chance to test you aim. Billabong instructors offer helpful advice on technique which makes this activity suitable for those who have never tried their luck with a bow and arrow. Keep score for fun as you try this addictive sport.
Pedal leisurely around the pedal boat dam or challenge your family and friends to a race around the islands in one of the Ranch's Pedal Boats.
Check out the Great Aussie Adventure Frisbee Golf Course. Work your way around Australia in this fun new activity.
The Animal Nursery is very popular. Billabong staff guide you through a hands on experience with a variety of animals including puppies, kittens, goats, fluffy chooks, ducks, guinea pigs, rabbits, sheep, donkey alpaca and more.
Let experienced guides take you back in time and discuss different carts, harness and other Australiana items on your tour of the horse drawn museum. Horse Riding caters for first timers, through to experienced riders. The trail rides allow you to bond with your horse and explore the magnificent red gum forests on the banks of the Murray and Goulburn Rivers.
For those too young to trail ride, there are the pony rides. Gentle ponies are perfect for youngsters trying out their riding skills.

Glanville Road and Tehan Road
Echuca, VIC, 3564
Located 0.2K from Echuca
Echuca Heritage Sweet Company
Echuca Heritage Sweet Company is the grandest lolly shop in Australia, located near the historic Port of Echuca, 200 kilometres from Melbourne.
Echuca Heritage Sweet Company offers only the finest quality chocolate and confectionery. The range includes confectionery manufactured locally and around Australia by craftsmen confectioners using the finest ingredients.
The Echuca Heritage Sweet Company also offer a broad range of English and American confectionery along with an extensive selection of Dutch licorice and sugar free sweets.
You are sure to find your favourite lolly from your childhood. Echuca Heritage Sweet Company hope you enjoy your time with them and look forward to welcoming you to Echuca.
606 High Street
Echuca, VIC, 3564
Located 0.8K from Echuca
Port of Echuca Discovery Centre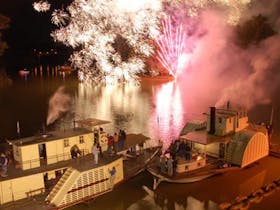 Recognised as one of Australia's finest heritage icons, the historic Port of Echuca is home to Australia's largest riverboat fleet. Built in 1865 by the Victorian Railways, the Echuca Wharf was crucial to the town's development and at its peak in 1890, it turned over 240 paddlesteamers.
The Port is open daily from 9am to 5pm, offering one hour guided tours of the Echuca Wharf, Star Hotel with its secret underground bar, historic sawmill site, and more.
Your ticket for the Port of Echuca Discovery Centre gives you access to wonderful displays including the Discovery Centre proper, Shipwrights and PS Success, Steam Traction Engines and Evens Sawmill, Steam Display, Earnshaw Walkway, Paddlesteamers, Cargo Shed Museum, Guard's Van and Breakdown Van, Wet Dock, Payne Walkway, Overhead Footbridge, and the Star Hotel.
Guided tours are also available. Please see the web site for details.
74 Murray Esplanade
Echuca, VIC, 3564
Located 1.0K from Echuca
Echuca Historical Society Museum and Archive
Echuca Historical Society Museum and Archive has an extensive historical collection that dates back to 1867 up until 1969. This is housed in the National Trust listed former Police Station and Cell complex in Echuca, Victoria.
The historical collection comprises of an extensive quantity of textiles, books, photography, documents, wooden, leather and metal objects and river boat, rail, economic and family memorabilia and objects, much of which dates from the earlier portion of the above era and portrays the lifestyle of Echuca's early residents.
Groups and students are welcome and a guide to the collection is available by appointment. Several of the members are very experienced researchers, addressing enquiries for research from the general public, and indexing local newspapers from 1850 on a day to day basis.
Research fee is $30 for first inquiry, $30 per hour thereafter. With over 5000 museum items and an extensive archival collection.
Extensive textile collection, dating back to 1850s is now on exhibition, as well as a pictorial exhibition of Riverboat Wrecks along the Murray River in the local district, which had previously not been documented for the public and permanent exhibitions telling the story of settlement.
You can also see other items from the river boat days, settlement of the area, items relating to the coming of rail, logging the forests and much more. The museum contains information and photos relating to the pioneer residents and old buildings in the town.
The museum regularly updates its Exhibition Gallery of photographs - short term exhibitions
These items provide useful research material and provides in depth information which is not available elsewhere, to those needing readily available and accessible history, much of which is believed to be unique to the district.
90 minute walking tours of the Heritage area available, please phone for details.
1 Dickson Street
Echuca, VIC, 3564
Located 1.0K from Echuca
Echuca: Events
Riverboats Music Festival
The Riverboats Music Festival is the Murray River's premiere contemporary music event.
Latest Event Details Are Yet To Be Confirmed*
Confirmed to play Riverboats in 2016 are internationally renowned artists including Missy Higgins, You Am I, The Church, C.W. Stoneking, Oh Mercy, Emma Donovan and The Putbacks, Mick Thomas and many more.
Staged in the twin-towns of Echuca-Moama, the festival takes place under towering river red gums in a natural amphitheatre next to the mighty Murray. Historic paddle steamers meander past all weekend, and occasionally the corellas get a bit raucous at sunset.
There is one stage and plenty of room for dancing, brilliant artists and delicious regional food and wine. It is probably one of the prettiest, inexpensive, laid-back festivals in Australia.
It takes around two and a half hours to get to Echuca-Moama from Melbourne, and there are plenty of great places to stay when you get here.

Event Dates
2017
      19th Feb
      20th Feb
      21st Feb
Heygarth Street
Echuca, VIC, 3564
Located 0.5K from Echuca
Echuca Farmers Market
Echuca Farmers Market is an accredited member of the VFMA and held on the first, third and fifth Saturday of each month.
Walk through the variety of stalls with seasonal fruit and vegetables, preserves, flowers, baked goods and fresh meat and seafood.
Enjoy a coffee and cooked breakfast from the Market Van while you spend a day admiring all the wares on offer.
Event Dates
2016
      4th Jun
      18th Jun
      2nd Jul
      16th Jul
      30th Jul
      6th Aug
      20th Aug
      3rd Sep
      17th Sep
      1st Oct
      15th Oct
      29th Oct
      5th Nov
      19th Nov
      3rd Dec
      17th Dec
      31st Dec
2017
      7th Jan
      21st Jan
Hare Street
Echuca, VIC, 3564
Located 0.5K from Echuca
Winter Blues Festival
Forget the winter blues at Echuca Moama's annual Winter Blues Festival, a weekend not to be missed.
The Echuca Moama Winter Blues Festival has become a feature event on the Australian Blues calendar. On the last weekend in July the cream of Australian Blues artists converge of Echuca Moama for a spectacular weekend of music and entertainment in the clubs, hotels, restaurants and streets.
Visitors to this much loved festival can soak up the blues and roots atmosphere from every street corner, restaurants and bars. This year's sixteenth annual festival was the largest to date with over forty blues artists, 145 performances, filling 30-plus venues across Echuca Moama. The fact that the vast majority of the blues and roots music is free is still a major drawcard for the festival.
Visit the website all your official Echuca Moama Winter Blues Festival information.
Event Dates
2016
      29th Jul
      30th Jul
      31st Jul
High Street
Echuca, VIC, 3564
Located 1.1K from Echuca
Club Marine Southern 80
The Club Marine Southern 80 is one of Australia's largest regional events attracting crowds in excess of 80,000.
Starting in Torrumbarry and finishing in Echuca, boats carrying one driver, one observer and two skiers travel a distance of 80 kilometres through 126 bends in the Murray at speeds of up to 200km/h. There's a number of competitive classes ranging from children under 16 years of age through to an open 'super class' category.
The Finish Line precinct at Victoria Park, Echuca is where most congregate to see competitors cross the finish line. A host of other entertainment offerings exist with freestyle motocross exhibitions featuring some of the world's best athletes, trade sites, official merchandise, children's entertainment, a variety of public catering vendors and a public bar.
Experience an Australian icon!
Event Dates
2017
      10th Feb
      11th Feb
      12th Feb
Scenic Drive
Echuca, VIC, 3564
Located 1.8K from Echuca
Echuca: Travel Tips
Echuca-Moama Visitor Information and Booking Centre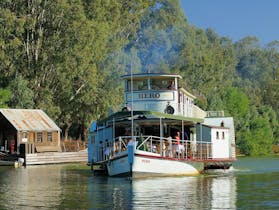 Echuca-Moama Visitor Information and Booking Centre is located on the banks of the mighty Murray River, the twin towns of Echuca Moama are the closest point of the Murray to Melbourne, just a two and a half hour drive.
Echuca Moama represents not only a bygone era with horse-drawn carriages and woodturners but it also showcases all the conveniences of the modern era.
The historic Port Precinct is recognised as one of Australia's finest heritage icons and is home to the largest riverboat fleet in the world, Australia's Paddlesteamer Capital.
The iconic wharf has been recently meticulously restored, enhanced by new red gum walkways along the riverbank.
The Echuca-Moama Visitor Information and Booking Centre can provide visitors with information on attractions and activities in the local area as well as book visitors accommodation through their reservation service.
They can also book the Paddlesteamer, local attractions and tours as well. Echuca Moama Visitor Information Centre has a touch screen information system, information on other areas including Regional Victoria and New South Wales, assistance with conference co-ordination, gifts and souvenirs and suggested itinerary's within the Shire of Campaspe and Murray Shire.
2 Heygarth St
Echuca, VIC, 3564
Located 0.6K from Echuca